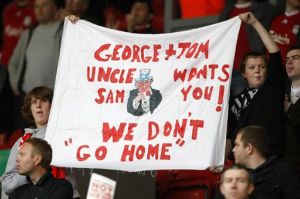 On July 21, the
Red Sox
hosted Celtic FC of the Scottish Premier League battling Sporting Clube de Portugal in the first soccer game at Fenway Park since 1968.
That's appeared to be a harbinger of things to come, as
Sky Sports reports
that Red Sox principal owner John Henry and chairman Tom Werner, under the umbrella of New England Sports Ventures, are one of two final bidders for the Liverpool Football Club.
Liverpool is one of the most prestigious English football squads with five European championships and 18 top league titles in England, but has fallen on hard times lately. Liverpool most recently finished seventh in the Premier League, causing it to miss the cut for the Champions League. The team has two very unpopular owners in Tom Hicks and George Gillett.
You may recall Hicks as the former owner of the Texas
Rangers
who is trying to bail himself out of debt. Things got so contentious down south that an auction had to be held to name new Rangers owners which ended up being Nolan Ryan and lawyer Dennis Gilbert. Hicks currently owns the Dallas Stars along with 50 percent of Liverpool. Co-owner Gillett, who is one of the owners of Richard Petty Motorsports and previously controlled the NHL's Montreal Canadiens, tried to sell his share of Liverpool previously but was blocked by Hicks as their friendship crumbled.
Now, both Henry and Werner have stepped into the breach along with a "Far East" bidder, as Sky Sports notes. The asking price of the team, currently at £600 million, has so far caused countless bidders to drop out. (£600 million is, as of October 5, worth about $831 million.)
Forbes
valued Liverpool as the sixth most-valued soccer team in the world, with a team value of $822 million (dollars, not euros).
However, Liverpool chairman Martin Broughton, currently in charge of selling the team, has recommended both Henry and the Far East bids of roughly £300 million,
according to the Daily Telegram
, for consideration. However, Hicks and Gillett are fighting against the bids as both owners would not see any revenue due to the team being so far in debt. In fact, in a Liverpool
press release
announcing the two bids -- but not who made the bids -- mentioned that Hicks and Gillett are attemping to remove two directors from Liverpool's board, with one replacement being Hicks' son, Mack.
There are some reports that the interest of the Red Sox and the Far East consortium may be a bit of misdirection aimed at getting Hicks and Gillett profit, as well as jack up the price of the club for those currently waiting for the bank to take over. Another bidder, Yahya Kirdi,
told the Guardian
that the current asking price defies "logic."
"Right now is not the time for me and my group to enter into any negotiations," Kirdi said. "Once everyone is united and there's logic in the price and the overall deal, me and my group will be prepared to return to the table."
If the £300 million bid is accepted, it would cover £282 million in fees to the Royal Bank of Scotland, which is threatening to take the team over and sell the squad themselves if no buyer is found by October 15. The rest of the bid would go to cover the playing squad and bring in talent. A new stadium also needs to be built, with the current stadium older than even Fenway Park, built in 1884. Hicks planned to build a new stadium, but debt curtailed these plans.
If the Red Sox do buy Liverpool, expect the squad to come stateside and play in Fenway Park for preseason friendlies much like rivals Manchester United, Manchester City and Tottenham have all done to date. Regular-season games could possibly be a factor, as the Premier League has discussed playing regular-season games abroad.
-- Evan Brunell (Danny Knobler also contributed to this report)
Join MLB Facts and Rumors at 1:30 p.m. on Wednesday to chat live during the Rangers-Rays game!

For more baseball news, rumors and analysis, follow @cbssportsmlb on Twitter or subscribe to the RSS feed .