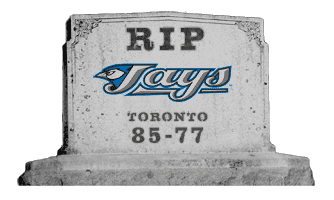 As the sports world waits for the crowning of a champion, 22 other teams are busy preparing for spring training. What went wrong for these teams, and what does 2011 hold? MLB Facts and Rumors here at CBS Sports will be answering those questions through all of October. Now batting: the Blue Jays.
An 85-win season, just four games behind third place in the tough AL East wasn't supposed to happen after trading one of the game's best pitchers.
But it did.
Roy Halladay
went south to Philadelphia, tossed a perfect game and no-hitter, and the Jays ended up with a stable of prospects, none of which made an impact at the major-league level until the final weeks of the season.
And yet, the Jays made noise all season -- thunderous noise. The team bashed a franchise-high 257 home runs, third all-time behind the 1997
Mariners
and 2000
Rangers
. It wasn't enough for a playoff season, but you can't call the year a disappointment either.
WHAT WENT WRONG
There were two things that held the Jays back from an improbable postseason berth: an inability to draw a walk and starting pitching.
The Jays hacked at the ball all season long. Sure, it paid off with 257 home runs, but many of these solo shots could have been turned into multiple RBIs, or even if you sacrifice some power to get on base, in the long run more runs likely would have been scored. On offense, the two most disappointing performances came from two of the best hitters from the 2009 squad:
Aaron Hill
and
Adam Lind
. Hill suffered from an extremely unlucky batting average on balls in play which dragged his average down to .205, but maintained his power by bashing 26 dingers. Lind, 26, tumbled from 35 home runs to 23 and a .305 batting average to .237. If both had performed up to par, the Jays very well could have finished third.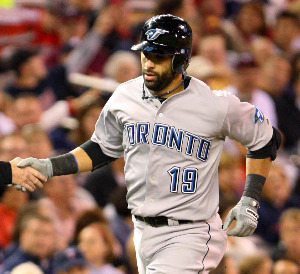 While the Jays boast a young, exciting starting rotation, there were growing pains.
Brandon Morrow
shook off a slow start to the season and eventually threw a no-hitter but still ended with a 4.49 ERA.
Marc Rzepczynski
posted a 4.95 ERA in 12 starts, while
Brian Tallet
,
Jesse Litsch
,
Brad Mills
and Dana Eveland all posted a total of 26 starts of an ERA around 6.
WHAT WENT RIGHT
An awful lot went right -- how about a career season from
Jose Bautista
for starters? Bautista (pictured right) jacked an amazing 54 home runs after a previous high of 16 (set way back in 2006) thanks to a slight change in offensive philosophy.
John Buck
had a career year of his own, posting a .802 OPS while catching and is in line for a lucrative deal in free agency.
Vernon Wells
enjoyed a bounce-back year, ending at .272/.331/.515. The bad news: there is still $86 million and four years to go on his onerous contract.
Ricky Romero
and
Brett Cecil
(pictured, below right) paired with Morrow to give the Jays a fantastic top three of starters 25 or under, while
Shaun Marcum
returned from a one-year layoff to post a 3.64 ERA. The rotation, especially if
Kyle Drabek
flourishes in the No. 5 spot, will give teams nightmares in 2011.
HELP ON THE WAY
Drabek was part of the package acquired for Halladay and made three late-season starts, hurling 17 total innings while whiffing 12 and walking 5 for a 4.76 ERA. The 22-year-old is considered a future mid-rotation starter if not more, and will battle for the No. 5 spot next season among a host of candidates.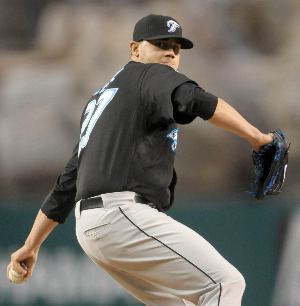 One such candidate is Zach Stewart, Toronto's preseason top prospect according to
Baseball America
. Acquired in the
Scott Rolen
trade in 2009, Stewart made 26 starts at the Triple-A level and impressed. Even if Drabek beats him out, Stewart is likely a top candidate to make his major-league debut at some point. Brad Mills, who collected a few starts in 2010, will serve as rotation depth while
Josh Roenicke
could be a major weapon out of the bullpen if he can firm up his command.
Catcher
J.P. Arencibia
was the No. 2 prospect for Baseball America and had a debut to remember. He went 4-for-5 with two home runs on August 7, but didn't do much down the stretch. He showed enough down on the farm that he will likely start the majority of the games in 2011.
EXPECTATIONS FOR 2011
The Jays certainly have a right to set a goal of finishing third, and could push for the wild card. Most of the offense is returning, and while regression to the mean has to be factored in for Bautista, bounce-back seasons from Aaron Hill and Adam Lind should make up the deficit. The starting pitching will be one year older and experienced.
What may bite Toronto in 2011, unless moves are made to address the situation, is the bullpen. The Jays will likely pick up closer
Kevin Gregg
's options, but there's no guarantee Gregg repeats his most successful season as a closer. Top relievers
Scott Downs
and
Jason Frasor
are slated to hit the market and will likely not return, and the Jays are unlikely to shell out big bucks for replacements, instead choosing to go with internal replacements or low-cost alternatives.
SUGGESTIONS FOR 2011
While the Jays have quite a few arbitration candidates to go before an actual budget can be predicted, they're likely to have at least $10 million, if not more, to spend in the free agent market that would get them to the 2010 payroll of $79 million. The priorities on offense are to find a first baseman as well as another bat that can play either second, third or right. With both Aaron Hill and Jose Bautista able to move to third, GM Alex Anthopoulous has flexibility when it comes to positions to chase.
Anthopoulous should focus on those who can take a pitch, with home run power secondary. First base/DH candidates who could fit in Toronto's budget (with Lind occupying the other position) include
Jim Thome
and
Russell Branyan
. Other candidates to play second, third or right are
Bill Hall
,
Orlando Hudson
,
Juan Uribe
and perhaps even
Magglio Ordonez
.
2011 PREDICTION
With Tampa Bay slashing payroll, the opportunity is there for Toronto to make a play for third -- and they'll try to do just that, but figure to fall just short, just like 2010. Poor Toronto -- if they weren't in the AL East, it'd be a near-lock to make the postseason.
Check out the rest of the R.I.P. teams here.

-- Evan Brunell
For more baseball news, rumors and analysis, follow @cbssportsmlb on Twitter or subscribe to the RSS feed .