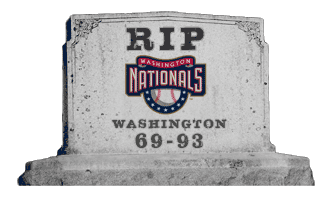 As the sports world waits for the crowning of a champion, 22 other teams are busy preparing for spring training. What went wrong for these teams, and what does 2011 hold? MLB Facts and Rumors here at CBS Sports will be answering those questions through all of October. Remember Strasmas? Well, the Washington Nationals got some coal.
It's not often a team with 90-plus losses has something to look forward to, but the Nationals sure do: 2011 being over.
You see, when 2012 opens, the Nationals will have phenom ace
Stephen Strasburg
fully healthy, likely with a few late-season 2011 rehab starts under his belt and a young team ready to go after the division.
Until then? More losing in the nation's capital.
WHAT WENT WRONG
The team lost 93 games. A lot went wrong. The most notable, as is to no one's surprise, is Stephen Strasburg getting knocked out for about a year with Tommy John surgery. Of course, if Rob Dibble had his way, Strasburg would probably have pitched every remaining game of the Nats after first suffering the injury.
Now that the obligatory Dibble insult is out of the way, what else went wrong?
Ivan Rodriguez
,
Adam Kennedy
and Cristian Guzman all struggled with OPS' south of .700, dragging down the Nats' offense. On the pitching side, only
Livan Hernandez
and Strasburg had ERAs under 4.00. The other five who received at least 13 starts? 4.65 (
John Lannan
), 5.13 (
Craig Stammen
), 5.15 (
Luis Atilano
), 5.56 (
Scott Olsen
) and 6.60 (
Jason Marquis
). Yikes.
Unfortunately, the GM in Mike Rizzo is responsible for a colossal mistake in not trading
Adam Dunn
. Many teams were hot to trot over the lefty, with even the
White Sox
striking to acquire
Edwin Jackson
because it was thought the Nats were interested in the starter. No trade was achieved because Rizzo felt that the offers weren't commensurate with what he could get in compensation draft picks. Alas, there is no guarantee the Nats end up with a first-rounder, and it is a large step to say that someone yet to be drafted holds that much value over someone in the system, already signed, with the bonus out of the way.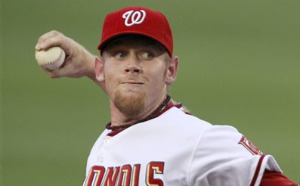 WHAT WENT RIGHT
Although Strasburg's (photo, right) injury definitely belongs in the "wrong" column, it also belongs in the "right" one as well. Why? Because Strasburg zipped through the minors and unveiled a filthy arsenal once he hit the majors with a fastball sniffing 100 and an absolutely devastating arsenal of breaking pitches. Washington has a Cy Young contender for years.
If Strasburg is looking for hope to return from TJ surgery, he can check out
Jordan Zimmermann
, who made 10 rehab starts in the minors after going under the knife last season. He made seven starts down the stretch and showed enough that the potential he displayed when he first came up is still there.
The Nats astutely picked up closer
Matt Capps
for a bargain in free agency, saw him excel as a closer and flipped him for the catcher of the future in
Wilson Ramos
-- all while promoting their own stud prospect reliever in
Drew Storen
, who proved he can close for years to come. Speaking of the bullpen,
Tyler Clippard
and
Sean Burnett
pretty much came from nowhere to establish what should be a nice bullpen for the Nats in 2011.
Miguel Batista
, a veteran journeyman, also had what figures to be his last quality year.
Mike Morse
, a Quad-A player, pounded 15 home runs in 266 at-bats, and the Nats may have suddenly found a new power-hitter which will ease the sting of the eventual loss of Adam Dunn.
Lastly, no "what went right" selection is complete without the ageless Livan Hernandez, who improbably finished with a 3.66 ERA, tossing 211 2/3 innings at 35. Swan song? Probably, given he stumbled in the second half. Still awesome.
HELP ON THE WAY
The Nationals already promoted Storen and Ramos, so they technically don't belong here, but bear with me. The 22-year-old Storen, as previously mentioned, is Washington's closer of the future while Ramos figures to split time with Pudge behind the dish in 2011. There's another catcher actually on the way as well in
Jesus Flores
, a Rule 5 pick all the way back in 2007.
Unfortunately, Flores missed all of 2010 and most of 2009 due to injury, but he could eventually give the Nats an incredible tandem in Flores and Ramos.
And
the team has a top catching prospect down on the farm in Derek Norris. Now that's depth. (But ask the
Rangers
how much their vaunted catching depth worked out for them this season.)
Danny Espinosa
also saw late-season action for the Nats, but impressed along with fellow preseason top prospect
Ian Desmond
, who manned short. Espinosa will slot in at second and give the Nats an exciting, young double play combo.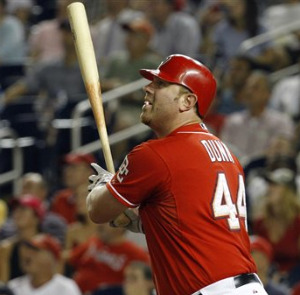 EXPECTATIONS FOR 2011
The Nats have reached the point where they can tentatively start expecting to contend. That means a 90-loss season won't be accepted in 2011 and would certainly spell the demise of skipper Jim Riggleman, even sans Strasburg. Although the free-agent machinations of the team (especially to replace Dunn) will go along way towards managing expectations.
The team won't harbor any illusions that the squad can finish .500, even if Dunn returns, but finishing in the neighborhood of 77-85 figures to be the goal behind the scenes.
SUGGESTIONS FOR 2011
The Nationals seem pretty set on moving on from Adam Dunn (photo, right) due to his horrendous defense and skyrocketing contract. One player the Nats may want to peek at is
Carlos Pena
, coming off a year where he hit below the Mendoza Line. He has proven, however, that he can hit significantly better than that. (His career average is .241 -- wouldn't exactly call that good, but a darn sight better than .196.) And the power is certainly still there, something Washington needs. Pena is also gifted with the glove. So let's see: down season making him cheap, power and a good glove. Works for me.
The team also needs to figure out its rotation. Right now, Hernandez, Zimmermann, Lannan and Marquis figure to take up the first four spots. Stammen and Atilano could fight for the No. 5 spot but the team could really use a solid free-agent option who is long on leadership but a little long in the tooth as well to depress his price. What the Nats need to do is avoid multi-year deals, though -- there wasn't ever any reason to hand Marquis two years, and there won't be a reason to hand someone like
Kevin Millwood
two years. Stick to one year deals around $6-8 million, and the Nats can find someone just fine.
2011 PREDICTION
While Rizzo seems like a solid general manager, his track record is less than stellar. Combine that with the loss of Strasburg, and the Nationals seem headed to another 90-loss season in 2011. Check back in 2012, though.
Check out the rest of the R.I.P. reports here.
-- Evan Brunell
For more baseball news, rumors and analysis, follow @cbssportsmlb on Twitter or subscribe to the RSS feed .