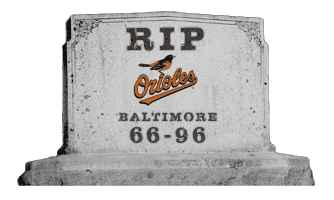 As the sports world waits for the crowning of a champion, 22 other teams are busy preparing for spring training. What went wrong for these teams, and what does 2011 hold? MLB Facts and Rumors here at CBS Sports will be answering those questions through all of October. Next up: The only AL East team to finish under .500 in the Baltimore Orioles.
The Orioles were a team with a budding youth movement at the end of 2009 with enough solid young players that it was thought 2010 could be the first step towards an eventual return to the top of the AL East.
Instead, the team cycled through three managers and a host of disappointing seasons from crucial players en route to the same old, same old.
WHAT WENT WRONG
In the offseason, the O's made three moves geared toward addressing the team's perceived weaknesses amid a push for .500. Those were bringing in Garrett Atkins,
Miguel Tejada
and Kevin Millwood.
Atkins couldn't hit his way out of a brown paper bag before being released, Tejada played poorly in his first season as a third baseman and increasingly appeared disinterested before being traded to the
Padres
and Kevin Millwood ran up a 4-16 record and 5.10 ERA in 31 starts.
In addition, center fielder
Adam Jones
regressed, left fielder Nolan Reimold was sent to Triple-A, second baseman
Brian Roberts
struggled with back problems, limited to just 59 games and
Nick Markakis
' 12 home runs were a massive disappointment. Mega-prospect
Matt Wieters
' pedestrian season proved that you can't always depend on minor-league numbers to tell the whole story. (Wieters still figures to develop into one of the league's best backstops.)
And if someone can tell me why the O's didn't trade
Ty Wigginton
when he was very much in demand and a free agent likely to depart, please call me. Because that was one of the dumber decisions at the trade deadline made by any team, with only the Nats' decision to hang onto
Adam Dunn
perhaps worse.
WHAT WENT RIGHT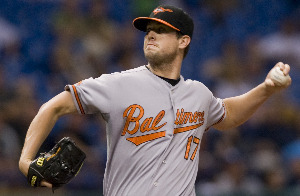 Brian Matusz
(pictured, right) shook off a slow start and ended the year with a 4.30 ERA, impressive for a rookie in the AL East. The lefty should eventually develop into Baltimore's ace. He was joined by
Jeremy Guthrie
, who shook off a poor 2009 to return to his usual season of around 200 innings (209 1/3) and an ERA just under 4.00 (3.83).
On offense,
Felix Pie
established himself as the left-fielder of the future after questions surrounding his commitment and talent. Pie was injured for a major part of the year, and nomad
Corey Patterson
-- himself an ex-Cub top prospect -- filled in admirably for Pie.
Luke Scott
powered his way to a .902 OPS and career-best 27 blasts, hitting .284/.368/.535 in 447 plate appearances, as Scott has established himself as a solid power-hitter in the middle of the Orioles' lineup. On a contending team, he would likely bat fifth and at 32, his value is running out. His age is not a concern thanks to having two more years of arbitration that other teams would covet. However, Scott will only get older and only get closer to free agency, so the O's should capitalize on Scott's best full-time year and deal him.
HELP ON THE WAY
The Orioles debuted
Jake Arrieta
and brought
Chris Tillman
up for another shot at the rotation, giving the O's three nice arms with Matusz that will eventually be the foundation of the team. Tillman is still struggling to adapt to the majors but has plenty of time to figure out while Arrieta has a 2011 rotation spot locked up.
Zach Britton
skyrocketed up the prospect rankings all season and should debut in 2011, eventually pairing with Guthrie, Matusz, Arrieta and Tillman to give the Orioles its best pitching staff since its mid-90s halcyon days and its best shot to take down the
Yankees
,
Rays
,
Red Sox
and Jays. Offensively, the club drafted shortstop Manny Machado in June, who will appear on many Top-100 prospect lists this winter.
Josh Bell didn't find the bigs to his liking in his major-league debut, compiling a .214/.224/.302 line but represents the O's best hope for developing a power hitter and will get every chance. Brandon Snyder will also get every chance to become Baltimore's long-term first baseman, but a poor 2010 calls into question how ready he is currently.
EXPECTATIONS FOR 2011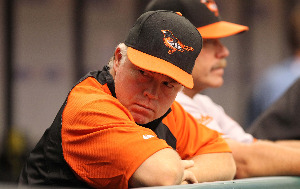 The Orioles ran through Dave Trembley and Juan Samuel heading up the clubhouse before settling on Buck Showalter (pictured, right). The longtime skipper posted a 34-23 record in town, giving many hope. While Showalter will combine with many budding, talented youngsters to give forth a strong effort, the team is simply not ready for prime time.
Shooting for .500 is a realistic goal, but the team may have to temper expectations given the mighty behemoth that is the AL East. Finishing with 88 losses could be as good as finishing .500 in any other division.
SUGGESTIONS FOR 2011
The Orioles need to be focused on one thing and one thing only: surrounding the team with enough talent to compete. With enough money to make a play for a big free agent, the O's could strike big, but need to make these smaller strikes count as well.
The Orioles could make a play for
Jayson Werth
or
Carl Crawford
and sell them on having enough talent coming up to make a push. The dollars and sense won't likely work out, however, so the O's will have to go second-tier shopping. Taking a flyer on
Jeremy Bonderman
, still under age 30 and with plenty of talent, could work out in spades for the O's.
Jorge De La Rosa
would be a safer get, but also come at a higher price.
On offense, the team could target someone like
Carlos Pena
or
Derrek Lee
, amongst a host of others, to come in to act as a veteran presence and occupy first base long enough for Snyder to develop. The Orioles could also strike to acquire
Prince Fielder
, giving the team a cornerstone power bat to build around for the foreseeable future. Baltimore would also be able to flash enough money to potentially keep the slugger in town beyond 2011.
2011 PREDICTION
The Orioles will take baby steps toward contention. The offense is major-league ready enough, but the pitching is lagging behind and needs at least a year -- if not two -- to settle down. Baltimore's task is to get its young hitters focused in the meantime while cashing in on chips like Luke Scott and Jeremy Guthrie. The Orioles will likely sniff 90 losses but could be primed for a breakout in 2012.
Check out the rest of the R.I.P. reports here .
-- Evan Brunell
For more baseball news, rumors and analysis, follow @cbssportsmlb on Twitter or subscribe to the RSS feed .