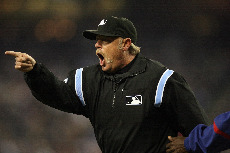 We've seen players on Twitter, front office people on Twitter, owners on Twitter -- but there was one group around baseball I didn't expect to see on Twitter, and now they've landed.
Umpire Jim Joyce, apparently, has joined Twitter (
@Jim_JoyceMLB
). Based on who is following him, it's either a really good fake or it's the real deal.
Joyce's first couple of tweets had a profile picture of him calling
Jason Donald
safe at first, ruining
Armando Galarraga
's perfect game on June 2. Joyce later changed it, to "avoid confusion," he wrote.
Joyce handled himself perfectly in the wake of the Galarraga debacle (as did just about everyone involved), but it'll be interesting to see how MLB feels about an umpire being on Twitter.
Joyce is one of the best umpires in the game, respected by most even before the Galarraga incident, so he seems to be just the type to be able to Twitter responsibly -- but what's the fun in that?
Joyce tweets he'll be back on Twitter during tonight's game, so it'll be interesting to watch if we get a bad call by an umpire (and when don't we get one in the postseason?)
UPDATE
: Now that I look more closely, it appears this is a lame hoax. Of the 22 accounts "Jim Joyce" is following, 13 are
Tigers
-related. When I saw
Jon Heyman tweet it
, I didn't look as closely as I should have. I took Heyman's word for it -- perhaps there's a lesson in there somewhere.
UPDATE:
Yeah, not a surprise.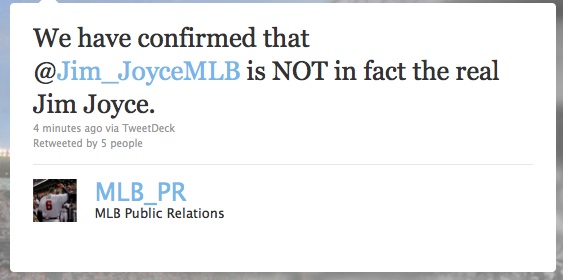 -- C. Trent Rosecrans
For more baseball news, rumors and analysis, follow @cbssportsmlb on Twitter or subscribe to the RSS feed .