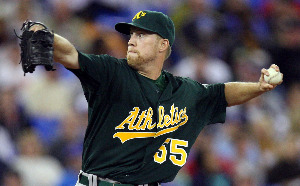 Two
Athletics
underwent Tommy John surgery during the 2009 season and suffered multiple setbacks that knocked them out for the entier 2010 season.
Now,
Joey Devine
and
Josh Outman
(pictured) are back on track.
Devine, who tossed 45 2/3 innings of relief in his first season with Oakland, had a stellar 0.59 ERA (3.29 xFIP) as a 24-year-old. Despite missing just over two months with right elbow inflammation. That ballooned into Tommy John surgery after spring training the following year when Devine couldn't make a comeback. Complications knocked him out for all of 2010 as well, so the 27-year-old has spent two years away from the game. That's why he's excited he got to pitch in the instructional league as part of his rehab.
"I threw the ball well," Devine told MLB.com . "I threw all my pitches. My location wasn't great, but that's to be expected when you're still trying to build arm strength. Everything else felt good."
Likewise, starting pitcher Outman broke into the team in 2008, but looked to be en route to locking up a permanent spot in the rotation in 2009 before getting hurt. In 12 starts and two relief appearances, Outman had a 3.48 ERA (4.36 xFIP) over 67 1/3 innings. And then suddenly the lefty was undergoing the knife.
"I'm starting to get to where I feel like I'm really pitching again, rather than just waiting for something to hurt," he said. Due for one more rehab start before shutting down, Outman said his first start was "discouraging" but that the last three have been solid. "I'm not quite back to where I was. There are still aches and pains, but I think that's just from getting my pitch count up again. The important thing is, I feel more relaxed -- and I haven't pitched relaxed in a long time. It will be good to kind of finish on a high note."
Outman is expected to compete with
Vin Mazzaro
,
Bobby Cramer
and Tyson Ross for the No. 5 spot in the rotation. His stiffest competition will be against Mazarro.
"I want to compete for it, earn it," Outman, 26, said of the rotation spot. "I don't know what they're going to do, but I plan on earning that fifth spot."
-- Evan Brunell
For more baseball news, rumors and analysis, follow @cbssportsmlb on Twitter or subscribe to the RSS feed .