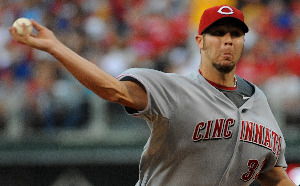 Every year, especially in this current free-agent market, there are plenty of players signed to minor-league contracts that end up playing an important part in a team's season.
Wilson Valdez
started Game 1 of the NLDS for the
Phillies
at third after
Placido Polanco
couldn't go.
Marcus Thames
is a threat against left-handers as a DH, while
Andres Torres
was a major cog in the
Giants
offense after signing a MLC prior to the 2009 season.
The first wave of minor-league free agents has begun, and
Baseball America
provides us with a list which is below. First, some notable names that are now free agents:
Rich Hill (Red Sox)
Hill was formerly a blooming young starter with the
Cubs
before contracting
Steve Blass disease
. Hill has worked his way back to being an intriguing option as a left-handed relief pitcher. In fact, Hill was a popular name being thrown around the Boston media to be part of the 2011 bullpen. Well, unless Hill signs a minor-league deal and agrees to compete for a spot, that won't happen.
Micah Owings
(pictured)
(Reds)
The pitcher who also carries a large stick doesn't seem to care much for starting but his strikeout numbers look promising out of the bullpen. Given his ability to pinch-hit (and some enterprising managers could use Owings in more creative ways) and still only 28, he should get a long look somewhere next spring training.
Ian Snell (Mariners)

Snell was once a veteran of the
Pirates
starting rotation before things started to go awry and there was an acrimonious departure from the organization. Despite Snell's personal opinion of his talent, 2010 was a disaster. He's still young and shouldn't have a problem seeing the majors again next season, whether out of the gate or after spending some time in Triple-A.
Ryan Garko (Rangers)
Garko was claimed by Texas from the Mariners just in time for Opening Day to be their much-needed right-handed bat off the bench. That didn't work out so well for Garko, who has demonstrated an ability to hit left-handers in the past. Garko also struggled down on the farm, so the 29-year-old is running out of chances.
The full list
Baltimore
Orioles
:
RHP Cla Meredith, LHP Alberto Castillo, 1B Michael Aubrey, 3B Scott Moore
Boston Red Sox:
RHP Fernando Cabrera, LHP Fabio Castro, LHP Rich Hill, C Gustavo Molina, 3B Jack Hannahan
Chicago Cubs:
RHP Mike Parisi
Chicago White Sox:
C Austin Yount
Cincinnati Reds:
RHP Micah Owings
Detroit
Tigers
:
OF Alexis Espinoza, OF Chao-Ting Tang
Florida Marlins:
RHP Scott Strickland, LHP Dan Meyer, C Mike Rivera, 3B Brian Barden, 3B Mike Lamb
Houston Astros:
RHP Josh Banks, RHP Yorman Bazardo, RHP Casey Daigle, RHP Gary Majewski, RHP Chris Sampson

Kansas City Royals: RHP Matt Herges (released),
RHP Anthony Lerew, RHP Josh Rupe
Los Angeles Angels:
OF Michael Ryan
Los Angeles Dodgers:
RHP Justin Miller, SS Juan Castro
Milwaukee
Brewers
:
RHP Chris Smith
Oakland Athletics:
RHP Ross Wolf, LHP Cedrick Bowers
Pittsburgh Pirates:
RHP Brian Bass
St. Louis Cardinals:
LHP Evan MacLane
San Diego Padres:
C Chris Stewart
Seattle Mariners:
RHP Ian Snell, C Eliezer Alfonzo
Texas Rangers:
1B Ryan Garko
Toronto Blue Jays:
1B Brian Dopirak, 1B Mike Jacobs
Washington Nationals:
RHP Jason Bergmann, C Jamie Burke, C Carlos Maldonado
-- Evan Brunell
For more baseball news, rumors and analysis, follow @cbssportsmlb on Twitter or subscribe to the RSS feed .