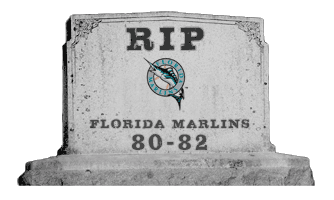 As the sports world waits for the crowning of a champion, 22 other teams are busy preparing for spring training. What went wrong for these teams, and what does 2011 hold? MLB Facts and Rumors here at CBS Sports will be answering those questions through all of October. Now: the oft-maligned Florid Marlins.
The Marlins were slapped on the wrist in the offseason for not spending enough money on major-league payroll, then had their financials leaked. Meanwhile, owner Jeffrey Loria walked Fredi Gonzalez right out of town and into the grateful arms of the
Braves
, and the team missed .500 by one game.
WHAT WENT WRONG
The Marlins had a gaping hole at catcher for much of the season.
John Baker
was on the verge of establishing himself as a permanent starting catcher, but his 2010 season was cut off as soon as it had began and he underwent Tommy John surgery. That left
Ronny Paulino
, good only against lefties, to play full time before angering the organization after testing positive for PEDs. That left the team with
Brett Hayes
and
Brad Davis
down the stretch.
For the last two seasons, the Marlins have been waiting on
Cameron Maybin
to break out. They'll have to wait some more, as Maybin hit just .234/.302/.361 in 322 plate appearances and
Cody Ross
got the bulk of playing time in center before he was sent to the
Giants
. Florida remains high on the 23-year-old, but at some point has to start producing.
Ricky Nolasco
has been far, far better than his ERAs of the last two seasons might indicated. Nolasco shacked up respective ERAs of 5.06 and 4.51 in 2009 and 2010, but his xFIP tells a far different story at 3.28 and 3.55, respectively. Luck and poor defense abandoned Nolasco, however, so he remains a tantalizing pitcher who just needs breaks to go his way.
WHAT WENT RIGHT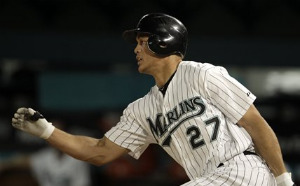 The Marlins introduced some intriguing prospects to the majors, the most interesting of all being Mike Stanton (pictured, right). At just 20, Stanton bashed 22 home runs in 396 PA along with 22 doubles, good enough for a .259/.326/.507 line. All he has to do is cut down on strikeouts, raise the batting average and he will be a once-in-a-generation stud. As it is, he's already a once-in-a-generation power hitter.
He's joined by
Logan Morrison
, a natural first baseman who is playing out of position in left for the moment. In 287 PA, LoMo hit .283/.390/.447 and gives the Fish an incredible 3-4 combo for years. First baseman
Gaby Sanchez
also impressed, albeit at the advanced age of 27.
Josh Johnson
was a dominating pitcher and proved Florida made the right call in signing him to a four-year deal just before the regular season. Johnson had a pedestrian 11-8 record thanks to bad luck, but was absolutely stellar in other facets of the game. His 2.30 ERA, 3.15 xFIP and 186 punchouts in 183 1/3 innings makes the 26-year-old one of the best pitchers in the game.
HELP ON THE WAY
Florida has graduated most of its better prospects already in Sanchez, Stanton, Morrison,
Scott Cousins
and
Alex Sanabia
. However, there are still two top prospects that could make an impact as soon as 2011.
Matt Dominguez, despite not playing above Double-A, is a candidate to start at third base for Florida as early as 2011. While that may be an aggressive move, Dominguez is major-league ready with the fielding and his bat should eventually come around. First, the team needs to figure out who plays where between Dominguez,
Dan Uggla
, Morrison, Sanchez and
Chris Coghlan
.
Catcher Kyle Skipworth will eventually be the answer to Florida's catching issue. While he can't step in and contribute in that capacity in 2011, he could make his debut in advance of a 2012 job. Skipworth will spend most of the year in Double-A as a 21-year-old and needs to improve his contact skills. The power is there, all Skipworth needs is to string together a few more hits.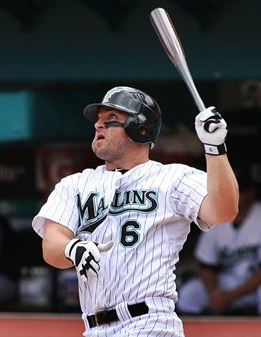 EXPECTATIONS FOR 2011
The Marlins expect to contend, which is partly why owner Jeffrey Loria fired Fredi Gonzalez. What he didn't realize, however, was that the talent of the Marlins was pretty much of a .500 team. The club should be better next year with full seasons from Stanton and Morrison, but need to upgrade its rotation and find a capable catcher to make some noise.
SUGGESTIONS FOR 2011
The Marlins shouldn't rush Matt Dominguez to the majors. He deserves to see his bat develop more in a less strenuous setting. However, the team should plan around Dominguez' eventual promotion, even if that's not until 2012. In addition, Logan Morrison is too much of a liability on defense to stick in left field.
The club should stick Coghlan in left field with the intention of leaving him there for the next few years, or until either Scott Cousins or Isaac Galloway knock the door down. Morrison shifts to first base, with Sanchez being dangled as trade bait for either a catcher, top relief pitcher or a starter that can give Florida a deep rotation.
Dan Uggla (pictured above, right) is entering the final year of his arbitration, and the club would do well to sign him for three- to four years, although Uggla may be looking for a longer deal than that. If the Marlins can convince Uggla to take three or four years, they can go into 2012's rebranding as the Miami Marlins with a new stadium and have Uggla as a name to sell fans on. If not, Coghlan can shift to second and free agency or internal promotions used for a left fielder. Florida could also opt to trade Uggla this offseason, put Coghlan at second and package Uggla and Sanchez for a major upgrade. The latter scenario is unlikely, plus Uggla is needed by Florida if they hope to win over the next several years.
2011 PREDICTION
Florida will hang around the wild card chase and could even put a scare into a few teams down the stretch, but will ultimately fall short.
Check out the rest of the R.I.P. reports here .
-- Evan Brunell
For more baseball news, rumors and analysis, follow @cbssportsmlb on Twitter or subscribe to the RSS feed .