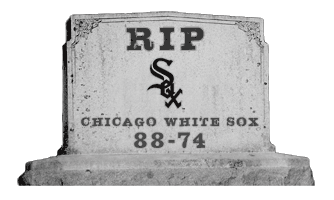 As the sports world waits for the crowning of a champion, 22 other teams are busy preparing for spring training. What went wrong for these teams, and what does 2011 hold? MLB Facts and Rumors here at CBS Sports will be answering those questions through all of October. Now: the Chicago White Sox.
There's one thing about these Chicago White Sox, they're never dull. And that was the case again in 2010 as Kenny Williams and Ozzie Guillen had their own reality show and provided more than enough fodder in an ultimately unsuccessful season.
WHAT WENT WRONG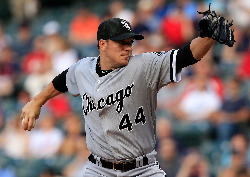 The vaunted White Sox rotation never quite lived up to its billing --
Jake Peavy
(pictured, left) had his search cut in half with injury, and even before that he was medicore, going 7-6 with a 4.63 ERA.
Mark Buehrle
,
John Danks
and
Gavin Floyd
were merely slightly above average.
The team's hole at designated hitter was only magnified by watching their old flame -- the one they dumped -- marry up, as
Jim Thome
not only hit 25 homers, but he did it for the division-winning
Twins
. And then there's
Manny Ramirez
... but that's an old story.
WHAT WENT RIGHT
The White Sox went on one of the longest hot streaks of the season, a stretch of 25 victories in 30 games to erase Minnesota's 9 1/2-game lead. But after that, the team just couldn't keep it going and saw its own lead in the division disappear.
Paul Konerko
(pictured, below) had a fabulous season, hitting .312/.393/.584 with 39 homers and 111 RBI. (If you're talking about Konerko, it's good for him this season came in the final year of his contract.)
HELP ON THE WAY
The White Sox got a glimpse of the future at the end of the season.
Brent Morel
played 24 games and didn't put up the prettiest numbers at the big league level, but he could be the starting third baseman next season.
More impressive was 2010 first-rounder
Chris Sale
. The organization expects the left-hander to start. As a reliever -- in an attempt to limit his innings -- Sale showed the potential of a future ace. Fresh out of a small college, he wasn't intimidated by big league hitters, appearing in 21 games and amassing just a 1.93 ERA. He struck out 32 batters in 23 1/3 innings and walked 10 with a WHIP of 1.071.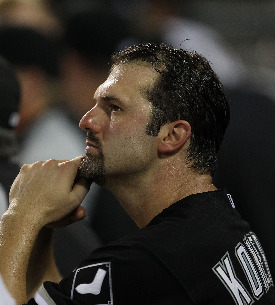 EXPECTATIONS FOR 2011
Since winning the World Series in 2005, it's been title or bust for Williams and Guillen. That's not going to change now.
SUGGESTIONS FOR 2011
The biggest question for Williams will be if he can afford to keep Konerko, a White Sox mainstay. Konerko had a huge year and is a free agent, but he'll also be 35 on opening day and will command a big price tag, plus a multiyear contract. If you're going to spend that kind of money, why not give
Adam Dunn
a shot? Or, heck, go for broke (which they've been known to do) and sign both. The team certainly wouldn't lack power with a Konerko-Dunn tandem.
It'll be easy to let
Bobby Jenks
go, but who to replace him as the club's closer? I like
Matt Thornton
, but I'm not so sure Williams/Guillen is ready to lean no the lefty and take him out of the set-up role.
2011 PREDICTION
The Magic 8 Ball tells us to ask again later, there's too much time between now and April to know just what the White Sox will look like. This much is sure, the White Sox will be interesting, even if it's just the manager and general manager.
Check out the rest of the
R.I.P. reports here.
-- C. Trent Rosecrans
For more baseball news, rumors and analysis, follow @cbssportsmlb on Twitter or subscribe to the RSS feed .