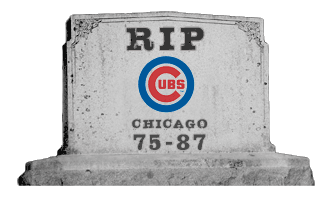 As the sports world waits for the crowning of a champion, 22 other teams are busy preparing for spring training. What went wrong for these teams, and what does 2011 hold? MLB Facts and Rumors here at CBS Sports will be answering those questions through all of October. The lovable losers everyone knows as the Chicago Cubs are up next.
In the last season of Lou Pineilla's managerial career, the Cubs stumbled out of the gate and never got on track although the team responded under the leadership of interim manager Mike Quade.
WHAT WENT WRONG
Give the Cubs credit: they got the losing out of the way in the first half so fans weren't crushed by a late-season swoon.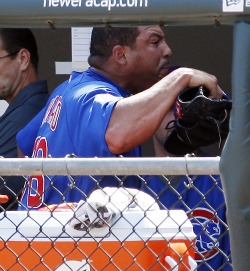 Derrek Lee
and
Aramis Ramirez
, the two big boppers who were expected to anchor the order, must have thought they were retired. After all, when your 3-4 combo combines for an OPS under .700, you know things went wrong. Lee finished at .233/.329/.366 in 371 plate appearances while Ramirez one-upped him (or is it one-downed?) with a .207/.268/.380 mark in 261 PA.
That wasn't even the story that got national attention. What did was
Carlos Zambrano
's season from hell. He began the year as Cubs ace, found himself in the bullpen before the end of April, then was moved back only to have a meltdown while pitching against the
White Sox
on July 25. Big Z (pictured, left) and Lee had to be separated in the dugout and the right-hander was suspended. He returned days later to the bullpen before moving back to the rotation where he ended the year on a roll with a 1.41 ERA in 11 starts. The strong finish wasn't enough to wipe the puckered lips from Cubbie fans -- especially with Z due just under $36 million the next two seasons.
And to cap it all off, rookie sensation
Tyler Colvin
had his lung impaled by a shard of a broken bat. Nice.
WHAT WENT RIGHT
If Zambrano's turnaround didn't do it, then Aramis Ramirez' own turnaround helped. As soon as Ramirez got a three-day respite in mid-July, he came back strong, cranking 15 homers the rest of the way for a .276/.321/.526 line. While the second half saw veterans such as Lee and
Ted Lilly
traded, the play of new blood plus a 24-13 finish under Quade turned frowns into half-smiles, dreaming of what could be in 2011. (Stop it, Cubs fans! Stop it right now. These are the Cubs.)
One thing Chicago did have going for them was a dominant closer and setup man.
Carlos Marmol
struck out a wicked 138 batters in just 77 2/3 innings, making his 52 walks irrelevant as he posted a 2.55 ERA and nailed down 38 saves. He was joined by converted starter
Sean Marshall
, and the lefty appeared in 80 games en route to a 2.65 ERA.
Former Rookie of the Year catcher
Geovany Soto
shook off a dismal 2009 to provide the Cubbies with a .280/.393/.497 line in 387 PA with 17 home runs. That's incredibly rare production out of catcher, but he kept inexplicably losing playing time to
Koyie Hill
. And one wonders why the Cubs lost almost 90 games.
HELP ON THE WAY
The Cubs introduced plenty of youngsters to the team, none more than on pitching where
Casey Coleman
,
Thomas Diamond
,
James Russell
and
Andrew Cashner
saw extensive playing time. Cashner has a spot locked up in the bullpen and Coleman has a good shot of opening the year in the rotation.
Tyler Colvin and
Starlin Castro
also made impressive debuts as rookies, but unfortunately for Chicago, there is not much behind these names that will be ready for 2011. However, there's a host of candidates that could see major-league time in 2011 in advance of major contributions in 2012. Those include outfielder Brett Jackson, third baseman Josh Vitters, infielder Ryan Flaherty, starter
Chris Carpenter
and starter Jay Jackson, who could step in the rotation in case of injury.
EXPECTATIONS FOR 2011
The Cubs have enough horses that contention isn't impossible, but too much has to break right. So while the Cubs will talk up a good PR game, privately they'll take a third-place finish behind the
Cardinals
and
Reds
in some form. All that may require is a .500 finish, although Chicago should expect to win a few more than 81.
SUGGESTIONS FOR 2011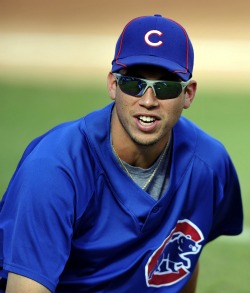 The Cubs won't have much money to play with as quite a few of their valued players are in arbitration. The good news is that payroll drops precipitously after 2011 and off a cliff after 2012. Unfortunately, until then, the Cubs are essentially locked into near every position, but there's still room to improve. They will have an open first base spot (unless Tyler Colvin moves to first) and second base (unless the team keeps
Blake DeWitt
as a starter). The bullpen could also use some reinforcements.
There isn't much in the way of first base prospects, so the Cubs might be better served to see what Colvin (pictured, right) can do at first base. That would leave
Kosuke Fukudome
manning right, but since the Japanese import can't hit lefties, Jeff Francouer could come in and serve as a platoon partner and serve as fourth outfielder.
At this point in DeWitt's career, he is essentially a backup so the Cubs have to go and get another player. Inking
Bill Hall
could pay major dividends if his comeback in Boston was for real and should be available for short years and reasonable dollars. The Cubs can then stack the bullpen with an arrangement of solid relievers that don't break the bank and use the savings for two things: signing bonuses in the draft and getting rid of players with no future in town. That includes Ramirez and Fukudome as well as the all-but-untradeable
Alfonso Soriano
.
2011 PREDICTION
The Cubs will have some growing pains in 2011 as the team shakes free of the old regime and begins a new one in town with plenty of cash to sign upcoming free agents. Not only are the Cubs in too transitional of a stage to play heavily in the free-agent market this offseason, the market is poor as well. Next season will have some strong free agents that the Cubs could jump at. Look for Chicago to finish around 85 losses.
Check out the rest of the R.I.P. reports here
.
-- Evan Brunell
For more baseball news, rumors and analysis, follow @cbssportsmlb on Twitter or subscribe to the RSS feed .