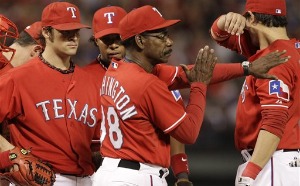 During the
Rangers
' collapse Friday night that could haunt the franchise for years to come, manager Ron Washington burned through five pitchers in the eighth inning.
Not a one was
Neftali Feliz
, the 22-year-old closer that could have stemmed the tide. And yet, it's hard to argue against Washington's thought process in terms of bullpen machinations until tabbing
Derek Holland
, the fifth pitcher of the inning.
The skipper replaced starter
C.J. Wilson
with a runner on second and a man already across the plate. (One could argue replacing Wilson was the first screw-up.) He chose lefty
Darren Oliver
to face
Nick Swisher
and
Mark Teixeira
in order to get them to hit from the right side of the plate. Good idea. Bad execution, as Oliver walked both batters. That meant
Darren O'Day
, a groundball specialist, was headed into the game to face
Alex Rodriguez
in the hopes of inducing a double play.
Good idea. Bad execution.
O'Day's first pitch was a groundball, technically -- a missile that skipped off the ground and ate
Michael Young
up for breakfast, lunch and dinner. There may have been a midnight snack.
Then,
Clay Rapada
, who had all of nine innings of experience with the Rangers this season, came on to try to nullify
Robinson Cano
who had bashed a home run the inning prior. Yet again a good idea, yet again bad execution. Another hit, and New York was still on the merry-go-round and a 5-1 Rangers lead had evaporated into a tie.
At that point, Washington was faced with three choices. One, he could bring in closer Neftali Feliz, who could at least keep the game tied. Two,
Alexi Ogando
, a right-hander who has been excellent in relief, could come on to face what would have been pinch-hitter
Lance Berkman
. Three, Washington could keep Rapada in the game or bring in Derek Holland to face
Marcus Thames
.
This is where Washington's choices fell apart.
Marcus Thames is a lefty killer and has been so his entire career. He has a career .264/.333/.505 line against lefties in 750 career at-bats. He was specifically brought to New York to act as a platoon player and face lefties.
Meanwhile, Berkman has struggled through a poor season and only snapped out of a funk. However, as Evan Grant of the
Dallas Morning News
points out, Berkman is hitting .356 against right-handed pitching since Sept. 1, and that was the statistic Washington keyed in on and made him choose the Holland/Thames matchup.
"We really had to pick who we wanted to face," Washington said. "We got the matchup we wanted. They just beat us."
There is some doubt as to whether the matchup they got was what they wanted, as there's certainly plenty of reasons that Ogando or Feliz would have been able to neutralize Berkman. Simply looking at the ERAs and xFIPs of each pitcher shows that Holland was the worse of the three pitchers to head to the mound, and Holland did so against someone whose job is to hit left-handed pitching.
Feliz ended up never entering the game, and Washington says it's because the rookie has "never" been asked to get six outs in a game.
"He's never done anything like that," Washington told the
Morning News
. "I wouldn't do that. I had the people I wanted in the game. They didn't get it done. It happens."
"Never" is a strong word. It means Feliz has never gotten six outs in a game before.
So what happened April 21 and August 10 against the
Red Sox
and August 13 against these very
Yankees
? How about 2009, when Feliz joined the team in mid-August as a reliever? He got eight outs once, seven once, six outs six times (of course), five outs twice and four outs four times.
Yes, that was 2009. But he's done it in 2010 as well, against two of the more potent hitting teams, one of which was the opponent Friday night.
Feliz should have entered the game to face Lance Berkman at the latest, holding back Ogando and Holland for extra innings if needed. Given Holland was a starter, he would have been able to go multiple innings if needed. One could argue Feliz should have entered to face Alex Rodriguez.
Instead, he never did. And now Texas is down one game in the ALCS.
-- Evan Brunell
For more baseball news, rumors and analysis, follow @cbssportsmlb on Twitter or subscribe to the RSS feed .