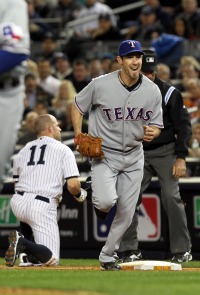 The year of the pitcher has naturally turned into the postseason of the pitcher -- and now you can add
Cliff Lee
's ALCS Game 3 gem to this year's postseason pitching performances to remember.
As a whole, Lee's outperformed
Roy Halladay
and
Tim Lincecum
to this point, and his outing at Yankee Stadium may have been as good as their Game 1 NLDS performances.
There were plenty of words written about Bill James' game score stat after Lincecum's two-hit performance against the
Braves
outscored Halladay's no-hitter against the
Reds
. Lee didn't match either in game score, but he could have had the
Rangers
' offense not exploded for six runs in the ninth.
Lee finished the game with a game score of 90 -- assuming he finished the ninth unscathed, he would have surpassed Halladay's game score of 94 (one point for every out, two more for an inning after the fourth). With one strikeout, he would have tied Lincecum's 96. The way he was pitching and the way the
Yankees
looked at the plate, that doesn't seem like much of a stretch.
What may have set Lee's outing apart was the team he did it against -- the Yankees. New York's 859 runs were the most in the majors, its .786 OPS was the second-best in the majors and wOBA (weighted on-base average) of .347 was the best in the majors.
The Reds were fourth in runs (790), third in OPS (.774), wOBA (.339), so they were too far off the Yankees, except that they played in the weaker National League.
I'm not sure I buy Linecum's outing or Lee's outing being superior to Halladay's no-hitter, all three were amazing to watch and starts that should be celebrated and will certainly be remembered. It's like judging a piece of art -- does it matter which painting is better? Just appreciate them all on their own merits and be glad you got to see them.
Here's a look at the three phenomenal starts and three phenomenal starters:
Halladay vs. Reds: 9 IP, 0 H, 0 R, 8 Ks, 1 BB, 28 BF. 104 pitches, 79 strikes. Game score: 94
Halladay's 2010 postseason: 1-1, 2.25 ERA, 16 IP, 15 Ks, 1 BB, 8 H, 4 ER
Lincecum vs. Braves: 9 IP, 2 H, 0 R, 14 Ks, 1 BB, 30 BF. 119 pitches, 75 strikes. Game score: 96
Lincecum's 2010 postseason: 2-0, 1.69 ERA, 16 IP, 22 Ks, 4 BB, 8 H, 3 ER
Lee vs. Yankees: 8 IP, 2 H, 0 R, 13 Ks, 1 BB, 27 BF. 122 pitches, 82 strikes. Game score: 90
Lee's 2010 postseason: 3-0, 0.75 ERA, 24 IP, 34 Ks, 1 BB, 13 H, 2 ER
-- C. Trent Rosecrans
For more baseball news, rumors and analysis, follow @cbssportsmlb on Twitter or subscribe to the RSS feed .