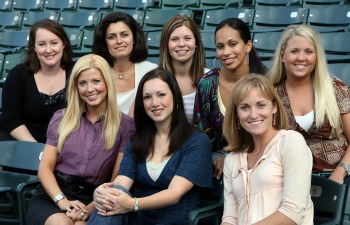 Kristen Lee was going to be key to the
Yankees
landing
Cliff Lee
this winter. Yankees pitcher
CC Sabathia
, who has pretty much been openly courting his old
Indians
teammate, emphasizes how close his wife, Amber, is with Kristen (that's Kristen on the upper right, with Amber next to her, in a photo courtesy of the
Plain Dealer
).
Sabathia said that during the
Rangers
' last regular-season series in New York, he made sure Amber took Kristen out to see the sights and talk up the advantages of living in the Big Apple.
But it doesn't sound like Kristen Lee is much of a Yankees fan after her experience at Yankee Stadium during the ALCS. She told Bob Nightengale of
USA Today
that while sitting in the visiting family section, she was taunted, cursed, had beer thrown at her and was even spit at from the section above.
"The fans did not do good things in my heart," Kristen says. "When people are staring at you, and saying horrible things, it's hard not to take it personal."
Kristen Lee also talked about how much she has enjoyed having her husband just a 40-minute flight from the family's Little Rock, Arkansas, home.
"Cliff can fit in anywhere, but it makes my life a lot easier," she said. "We've never had a short commute before. Having a direct flight from Little Rock is great."
Sure, it's easy to say Lee will simply go to the highest bidder. But if you don't think his wife will have some input on the matter, well, I'm going to guess you're probably not married.
-- David Andriesen
UPDATE:
Lee addressed the report today during his media availability. He was asked if it would affect his free agency decision.
""=No. I don't know the guy that did it. It could be anyone,"
Lee told reporters
. "Who knows? Who cares? They're at home right now."
For more baseball news, rumors and analysis, follow @cbssportsmlb on Twitter or subscribe to the RSS feed.