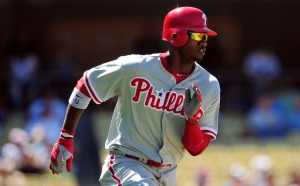 As the
Phillies
lick their wounds on failing to win three straight NL pennants, the big question around town is the future of right field.
Could
Jayson Werth
somehow return? Is
Domonic Brown
(pictured) ready for prime time? Where the heck is right-handed power going to come from?
"The problem is, length-wise of a contract, and also what direction we want to go in," manager Charlie Manuel said on 610-WIP on Wednesday, via the Philadelphia Daily News . "From my point of view, to me, right now, I look at our core players, I'm a hitting guy, and I think we can develop a hitter before we can get a top notch pitcher or a top bullpen piece."
The Phillies do have top prospect Domonic Brown who could step into Werth's shoes and seems destined to develop into a star. However, that takes an already lefty-heavy Phillies lineup and tips it even more.
The solution may be to find a platoon partner so Philly can focus on adding to the rotation or bullpen, as it seems Manuel wants to do. The club could start Ross Gload or Brown on the strong side of the platoon and import someone to bat against left-handers. If Brown proves he is able to handle lefties with aplomb, the club would also have the ability to switch the platoon over to left field and Raul Ibanez.
One thing Manuel is interested in is changing up the composition of the roster, citing Brown as one person who might be able to do that.
"We need a blend, a balance, a different look. We need to get back to what I call energy," Manuel noted. "We've got established big league players and they are good big league players, outstanding. Some of them are great. And they have their own way of playing. It's not like they don't hustle and things like that, but we could use a little different mixture."
If the solution is to platoon, who could Philadelphia go after?

The first person that springs to mind is Jeff Francouer, who can hit lefties but can't hit righties whatsoever. He also has a cannon for an arm and could impact games on defense. However, Francouer still considers himself a full-time player and there will likely be a misguided front office that allows him to be just that. (Paging Kansas City.)

The Braves have a mess in the outfield, and Matt Diaz could be non-tendered as part of a rehaul. If so, Diaz could be a perfect complement as his numbers against lefties in his career are excellent. The only negative is he is essentially limited to just left field, which wouldn't work in a right-field platoon.

Jose Guillen is an option should the Phillies find themselves desperate. The drawback? His attitude is questionable and his offense and defense are deterioriating with every given day.

How about internally? Ben Francisco has been a Phillie for roughly a year and a half and boasts a career line of .267/.347/.460 against lefties, which is not all that far off from Frenchy's career .299/.343/.481 mark. The Phillies wouldn't have to shoehorn Francouer into a platoon role or pay him to do that when Francisco could be much less of a headache.

Or how about Andruw Jones?

Jones seems to be a part-time player these days and hasn't amassed more than 281 at-bats in three years. As a part-time outfielder and DH for the White Sox, he banged 18 home runs before stumbling in the middle of the season and recovering. His career line against left-handers is .261/.361/.501 -- and that's not tied up in his previous value as a perennial All-Star. Jones hit .256/.373/.501 for the ChiSox against left-handers.

What helps is that Jones could be pressed into starting duty and not completely embarrass himself in right field should Philadelphia ask him to play more. If Jones doesn't care much for the offers on the free-agent market this year, headed to a team where he would be guaranteed to face lefties and see a healthy amount of time as a backup against righties could be enough for him to pull the trigger and perhaps amass more than 281 at-bats.

The Phillies have some work ahead of themselves to address the impending vacancy in right field, and going to a platoon situation might be the best way to handle the situation in 2010. It gives Brown some time to develop, assuming he wins the strong-side platoon job, and also imports someone to protect against Raul Ibanez looking hapless against lefties. That frees up Philly to commit its dollars to pitching and hopefully some relievers who understand the name of the game is to get outs.


-- Evan Brunell
For more baseball news, rumors and analysis, follow @cbssportsmlb on Twitter or subscribe to the RSS feed.