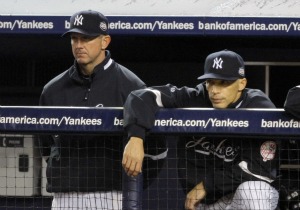 Pitching coach Dave Eiland (picture, left), fired by the
Yankees
after New York's season concluded, put to rest the speculation he and manager Joe Girardi did not get along.
"Totally, absolutely false," Eiland told the New Jersey Star-Ledger via text message on Sunday. "Ridiculous."
ESPN New York has cited a source saying that Eiland and Girardi (picture, right) had a falling out after the pitching coach took off almost a month in-season to tend to a presonal matter. The report had Eiland's opinions "de-emphasized."
The Star-Ledger notes that Girardi and Eiland always seemed to have a close working relationship, getting to the point where the two did not need to discuss who to bring in from the bullpen on any given day given the two always seemed in agreement.
There is some thought that the month-long absence is what doomed Eiland in the eyes of GM Brian Cashman, but he is remaining tight-lipped about the matter, except to say that internal candidates Mike Harkey and Scott Aldred would be considered for the job along with outside candidates.
In the Sunday notes section of the Boston Globe , Nick Cafardo tabs Aldred as the favorite to take over.
Aldred, the Triple-A pitching coach, spent two years in the position after serving as pitching coach for the Yankees' Double-A affiliate from 2007-08. Aldred spent nine season in the majors, most recently appearing for the Phillies in 2000. His tenure took him through the AL East once, with Aldred serving as a reliever for the then-Devil Rays from 1998-99.
He did have experience with the Yankees and Red Sox, however. In 2001, he pitched for the Yankees' Double-A affiliate -- the very same team he would go on to be pitching coach for six years later -- and then followed that up with the Dodgers in 2002. In 2003, he pitched in the Red Sox system and then spent the next two years in the independent leagues before retiring thanks to elbow trouble.
-- Evan Brunell
For more baseball news, rumors and analysis, follow @cbssportsmlb on Twitter or subscribe to the RSS feed.