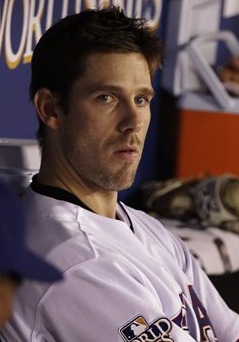 Stop the presses!
At midnight just now, 142 players became free agents. While some of them are still partying hard in the bowels of
Rangers
Stadium and on the streets of Arlington, the business side of baseball marches on.
Cliff Lee
wasted no time in breaking free from a team in which the vaunted ace lost twice and saw the
Giants
win a World Series.
Victor Martinez
waved goodbye to Boston, seemingly on the way to Detroit's "factory-er" pastures.
Adam Dunn
is walking from the
Nationals
and many assume is headed to the
Cubs
.
Less clear are the futures of
Rays
reliever
Chad Qualls
, finishing with a cumulative ERA of 7.32 in 59 innings, also pitching for the
Diamondbacks
.
Is
Pedro Feliz
on the way out of baseball? The formerly gifted defensive third baseman with some pop landed face-first in the third-base dirt for Houston and finished out as a marginalized bat in St. Louis with an iron glove.
And for the love of God, will someone tell me what's going to happen to
Scrappy McScrapperson
David Eckstein
!?
As per the recent rule changes that shortened the exclusive negotiating deadline from 15 to five, all became free agents immediately.
Per the MLBPA, here is who became free agents:
Player, Position, 2010 Team
Glaus, Troy 1B AT
Hinske, Eric OF AT
Lee, Derrek 1B AT
Benson, Kris SP AZ
Hampton, Mike SP AZ
Heilman, Aaron RP AZ
Lopez, Rodrigo SP AZ
Webb, Brandon SP AZ
Izturis, Cesar SS BA
Lugo, Julio 2B BA
Millwood, Kevin SP BA
Patterson, Corey OF BA
Uehara, Koji* RP BA
Wigginton, Ty 1B BA
Lowell, Mike 1B BO
Martinez, Victor C BO
Varitek, Jason C BO
Nady, Xavier OF CC
Bloomquist, Willie OF CI
Cairo, Miguel 3B CI
Edmonds, Jim OF CI
Hernandez, Ramon J. C CI
Lincoln, Michael RP CI
Rhodes, Arthur RP CI
Springer, Russ RP CI
Beimel, Joe RP CO
de la Rosa, Jorge SP CO
Dotel, Octavio RP CO
Giambi, Jason 1B CO
Mora, Melvin 3B CO
Payton, Jay OF CO
Garcia, Freddy Antonio SP CWS
Jones, Andruw OF CWS
Konerko, Paul 1B CWS
Kotsay, Mark DH CWS
Pierzynski, A.J. C CWS
Putz, J.J. RP CWS
Vizquel, Omar 3B CWS
Bonderman, Jeremy SP DE
Damon, Johnny DH DE
Laird, Gerald C DE
Ordonez, Magglio OF DE
Seay, Bobby RP DE
Ohman, Will RP FL
Sosa, Jorge RP FL
Tracy, Chad 3B FL
Blum, Geoff SS HO
Moehler, Brian RP HO
Chen, Bruce SP KC
Matsui, Hideki DH LAA
Shields, Scot RP LAA
Ausmus, Brad C LAD
Barajas, Rod C LAD
Gibbons, Jay OF LAD
Johnson, Reed OF LAD
Kuroda, Hiroki* SP LAD
Padilla, Vicente SP LAD
Ramirez, Manny OF LAD
Weaver, Jeff RP LAD
Bush, David SP MI
Capuano, Chris SP MI
Counsell, Craig SS MI
Crain, Jesse RP MN
Flores, Randy RP MN
Fuentes, Brian RP MN
Guerrier, Matt RP MN
Hudson, Orlando 2B MN
Mahay, Ron RP MN
Pavano, Carl SP MN
Punto, Nick 3B MN
Rauch, Jon RP MN
Thome, Jim DH MN
Blanco, Henry C NYM
Dessens, Elmer RP NYM
Escobar, Kelvim RP NYM
Feliciano, Pedro RP NYM
Tatis, Fernando 1B NYM
Berkman, Lance 1B NYY
Jeter, Derek SS NYY
Johnson, Nick DH NYY
Kearns, Austin OF NYY
Moeller, Chad C NYY
Pettitte, Andy SP NYY
Rivera, Mariano RP NYY
Thames, Marcus OF NYY
Vazquez, Javier SP NYY
Wood, Kerry RP NYY
Duchscherer, Justin SP OA
Sheets, Ben SP OA
Contreras, Jose RP PH
Durbin, Chad RP PH
Romero, J.C. RP PH
Sweeney, Mike DH PH
Werth, Jayson OF PH
Park, Chan Ho RP PI
Correia, Kevin SP SD
Eckstein, David 2B SD
Hairston Jr, Jerry SS SD
Stairs, Matt OF SD
Tejada, Miguel 3B SD
Torrealba, Yorvit C SD
Bard, Josh C SE
Woodward, Chris SS SE
Wright, Jamey RP SE
Burrell, Pat OF SF
Guillen, Jose DH SF
Huff, Aubrey 1B SF
Mota, Guillermo RP SF
Uribe, Juan SS SF
Feliz, Pedro 3B SL
LaRue, Jason C SL
MacDougal, Mike RP SL
Miles, Aaron 2B SL
Penny, Brad SP SL
Reyes, Dennys RP SL
Suppan, Jeff RP SL
Westbrook, Jake SP SL
Winn, Randy OF SL
Baldelli, Rocco OF TB
Balfour, Grant RP TB
Benoit, Joaquin RP TB
Choate, Randy RP TB
Crawford, Carl OF TB
Hawpe, Brad OF TB
Kapler, Gabe OF TB
Pena, Carlos 1B TB
Qualls, Chad RP TB
Soriano, Rafael RP TB
Cantu, Jorge 3B TE
Francisco, Frank RP TE
Guzman, Cristian 2B TE
Lee, Cliff SP TE
Molina, Bengie C TE
Treanor, Matt C TE
Buck, John C TO
Downs, Scott RP TO
Frasor, Jason RP TO
Overbay, Lyle 1B TO
Batista, Miguel RP WA
Dunn, Adam 1B WA
Harris, Willie OF WA
Mench, Kevin OF WA
* Free agent per contract provision in his UPC
Additionally, the following 34 players are eligible for free agency pending option provisions in their UPC
Player, Position, 2010 Team
Ankiel, Rick OF AT
Farnsworth, Kyle RP AT
Gonzalez, Alex SS AT
Infante, Omar 2B AT
LaRoche, Adam 1B AZ
Hendrickson, Mark RP BA
Beltre, Adrian 3B BO
Hall, Bill OF BO
Lopez, Felipe 3B BO
Ortiz, David DH BO
Ramirez, Aramis 3B CC
Arroyo, Bronson SP CI
Cabrera, Orlando SS CI
Harang, Aaron SP CI
Francis, Jeff SP CO
Olivo, Miguel C CO
Peralta, Jhonny 3B DE
Podsednik, Scott OF LAD
Davis, Doug SP MI
Hoffman, Trevor RP MI
Zaun, Gregg C MI
Reyes, Jose SS NYM
Chavez, Eric DH OA
Crisp, Coco OF OA
Ellis, Mark 2B OA
Garland, Jon SP SD
Young, Chris SP SD
Bedard, Erik SP SE
Branyan, Russ 1B SE
Renteria, Edgar SS SF
Wheeler, Daniel RP TB
Guerrero, Vladimir DH TE
Gregg, Kevin RP TO
Kennedy, Adam 2B WA
-- Evan Brunell
For more baseball news, rumors and analysis, follow @cbssportsmlb on Twitter or subscribe to the RSS feed.