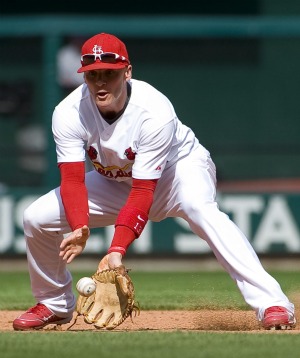 Brendan Ryan
knows that his season was unacceptable.
"There are some things that need to change and that's probably going to be offensively," Ryan said of a year where he hit .223/.279/.294 in 486 plate appearances, absolutely brutal numbers to
FoxSportsMidwest.com
. "There's no guarantee that I'll be back. I don't know. I really hope I am. I understand it's a business and I'm going into arbitration here so things could happen but I just don't know."
Although Ryan has superlative defense, he had a meltdown on defense at one point in May and also had a public run-in with pitcher
Chris Carpenter
in a season he would like to forget.
"It was pretty disappointing," Ryan said of a season in which he was behind in spring training due to surgery for the wrist and just never caught up. "I'm still early in my career here but my plan wasn't to hit .220 or whatever it was. ... At times I had an inconsistent approach. I think some of it definitely got in my head, just getting frustrating and pressing too much. I just wanted it so bad that I got in my own way at times."
Ryan is in line for his first season of arbitration. Had he hit closer to what he did in his first full season in 2009 of .292/.340/.400, he might be looking at a nice raise. Now, he won't make enough money that St. Louis may feel compelled to move the 28-year-old, especially given the Cards have a lack of options in the infield.
That would be OK with Ryan, who wants to remain a Cardinal.
"I think I've been very clear that I want to stay a Cardinal as long as they will give me a locker and issue me a jersey, but they've got to make all the puzzle pieces work and if it's because of me, nobody wants to be that guy. I want to feel wanted."
By virtue of his expected salary and lack of options, the
Cardinals
definitely want Ryan back. Enough to hand him the starting job again? That's to be determined.
-- Evan Brunell
For more baseball news, rumors and analysis, follow @cbssportsmlb on Twitter or subscribe to the RSS feed.