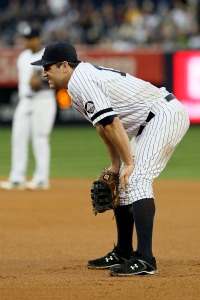 Astros
general manager Ed Wade told a Houston TV station the team has "moved past" the
Lance Berkman
era and has no interest in trying to reacquire the first baseman, whom they traded to the
Yankees
in July.
"I heard from Mike Moye [Berkman's agent] and he inquired about whether we had interest in bringing Lance back and I was candid with him and told him it didn't fit for us," Wade
told Fox 26.
"As much as we love and respect Lance and what he's done for our organization, we had these internal conversations in July when we made the decision to go ahead and move him.
"Lance had said he'd be open to a trade at that point in time and realistically evaluating where we thought we were going to be going into 2011 we didn't think there was going to be a fit there with regard to picking his option up."
The Yankees, for whom Berkman batted .255 after the trade, didn't pick up the $15 million option, and he became a free agent. Berkman, who played nearly 12 years in Houston, has made no secret of his allegiance to the team, saying in October "I'm a Houston Astro plain and simple, regardless of what happens going forward."
Berkman said Friday he wasn't ready to talk about his feelings about the Astros not having a place for him anymore.
"To be honest I don't know how I feel," Berkman said. "I really need some time to digest it."
-- David Andriesen
For more baseball news, rumors and analysis, follow @cbssportsmlb on Twitter or subscribe to the RSS feed.