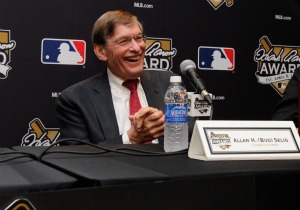 It's probably a bad sign when the guy in charge of a sport doesn't have a clue about its origins.
Last month, commissioner Bud Selig
sent a letter
in response to a question from autograph expert Ron Keurajian, who was seeking to clarify Selig's position on the game's origins for a book he's writing. This is what the commissioner had to say:
As a student of history, I know there is a great debate whether Abner Doubleday or Alexander Cartwright really founded the game of baseball. From all the historians which I have spoken with, I really believe that Abner Doubleday is the "Father of Baseball." I know there are some historians who would dispute this though.
The thing is, Selig is totally and completely wrong. No "student of history" would ever conclude that Doubleday invented baseball. The truth is, nobody
invented
baseball -- it evolved over time. The Doubleday story is based primarily on a single letter to a newspaper from a friend of Doubleday's who claims to have seen him draw a baseball field in the dirt.
How did the letter come to be accepted as baseball's origin story? As with many things that get completely screwed up, there was a committee involved. In 1905, the Mills Commission was appointed to settle a dispute about how baseball came into being, and they latched onto the story for several reasons. The Doubleday tale makes baseball a unique American game, and not a permutation of the British game of rounders. And Doubleday, who by the time of the Mills Commission had been dead for 12 years, was a Civil War hero who made a fine mythic figurehead.
As more than a century of research has concluded time and again, the Mills Commission story was hogwash. Doubleday was said to have "invented" the game in 1839, but references to baseball
have been found
as far back as the 1820s. As baseball historian
Donald Honig
said, "As far as anyone knows, [Doubleday] was as removed from the game as a Tibetan lama and didn't know a baseball from a kumquat."
The Doubleday fable is a nice story, and it essentially resulted in Cooperstown, which rules, so some good came out of it. But there's no doubt it's a fairy tale. You'd think Selig would know that.
-- David Andriesen
For more baseball news, rumors and analysis, follow @cbssportsmlb on Twitter or subscribe to the RSS feed.