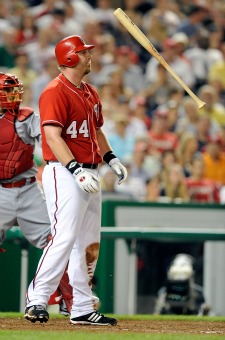 There's been plenty of talk about the
Nationals
moving on from first baseman
Adam Dunn
, but general manager Mike Rizzo said on Wednesday that the team hasn't decided against bringing back done.
"That's a question that's asked a lot, will Adam Dunn be in the uniform in 2011," Rizzo
told the Washington Post 's Dan Steinberg
. "We're certainly working toward that end. We've got a lot of irons in the fire, though. There's a lot of questions and a lot of decisions to be made before opening day next year."
Ryan Zimmerman
certainly made his feelings about done known.
"If you want a middle-of-the-lineup guy that you know is gonna play every single day and you know is gonna be there, you go with Adam," Zimmerman said. "There's really no other first baseman on the market that really compares with him, I don't think. He's a very good player, and if we can't get him back here, it's gonna be a big blow to our team."
Zimmerman
told NatsInsider.com's Mark Zuckerman
that he's talked to Dunn nearly every day since the season ended.
"He wants to be here," Zimmerman said. "He's a little upset that stuff didn't get done. But that was not the team's fault."
As for the Nationals' chase of
Cliff Lee
, the Nationals have contacts his agent, Rizzo told MLB Network/Sirius XM Radio.
"I'd be a fool if I didn't like Cliff Lee or want Cliff Lee on our club. He's the prize pitching guy in this year's free agent market," Rizzo said. "But again, I'm certainly not going to delude myself to the fact that we have a great chance of landing Cliff Lee. … I think the chances of Cliff wanting to come to the Washington Nationals at this time in our franchise is small."
You've got to give Rizzo some points for being realistic. The Nationals have very little chance of Lee choosing to play for them, but if they've got the money to offer, they've got to take that chance.
"If you're asking me if I want Cliff Lee on my team, then yeah, 100 percent," Zimmerman said. "He can take some of my salary if he wants."
-- C. Trent Rosecrans
For more baseball news, rumors and analysis, follow @cbssportsmlb on Twitter or subscribe to the RSS feed.