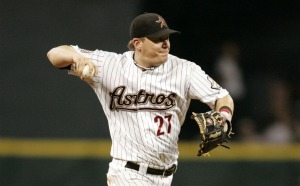 The
Diamondbacks
are on the verge of making their first offseason move as they are expected to sign infielder
Geoff Blum
to a contract.
The deal would be for one year and help address one of GM Kevin Towers' issues -- that Arizona's bench was too young in 2010.
"It's hard for young guys to be effective pinch-hitters coming off the bench," Towers said just before the end of the season, per
MLB.com
. "If you don't have that experience or those guys that are threats it makes it pretty easy on the opposing manager because he has no fear of anyone that is coming off the bench."
Blum (pictured) would help address that issue, even though he's no big threat with the bat. In 218 plate appearances for Houston, he hit .267/.321/.356. These stats did rise to .333/.364/.405 in 44 pinch-hit PAs, but that's too much of a small sample size to determine whether Blum has any aptitude as a pinch-hitter. A better barometer would be his career pinch-hitting stats, which are .250/.338/.318 in 274 PA.
Not that signing Blum is a bad move. He can play defense and is versatile and also has the ability to switch-hit. Blum has fashioned himself a nice career as a top bench bat and has experience working under Towers thanks to a San Diego stint from 2005-2007. He spent three years in Houston before the 'Stros declined a $1.65 million mutual option, and he figures to come in under that number for Arizona.
In other middle-infield backup news, the
Brewers
are close to bringing back
Craig Counsell
, as Tom Haudricourt of the
Milwaukee Journal-Sentinel
reports. If he signs, Counsell would serving his fifth straight year, sixth overall with the Brewers in a role that Blum has also proven adept at serving at. Although Counsell will be 40 for the 2011 season, he's proven he can still play.
-- Evan Brunell
For more baseball news, rumors and analysis, follow @cbssportsmlb on Twitter or subscribe to the RSS feed.