The major baseball awards will be announced next week, and the staff at MLB Facts and Rumors is making our choices this week. Today, David, Evan and Trent name their National League Most Valuable Player selections. As with the BBWAA awards, a first-place vote is worth 14 points, second place nine, third place eight and so forth, with 10th place getting one point.
Albert Pujols
has won three MVPs, including the last two. Pujols led the league in home runs (42) and RBI (118) and picked up both he Silver Slugger and Gold Glove at first base, but he certainly has a challenger at the same position in his very own division in Cincinnati's
Joey Votto
, who led the league in on-base percentage (.424) and slugging (.600) (and therefore, OPS as well). He also led his team to the playoffs for the first time in 15 years.
There's also
Carlos Gonzalez
, who like Pujols and Votto, flirted with the Triple Crown, and ended up winning the batting title with a .336 average.
So, how did the Facts & Rumors team see the NL MVP race? Well, here you go.
NATIONAL LEAGUE MOST VALUABLE PLAYER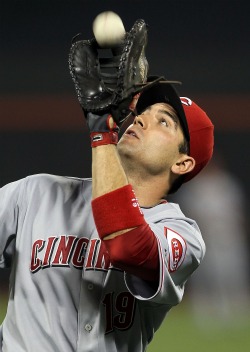 David Andriesen
1. Joey Votto,
Reds
2. Albert Pujols,
Cardinals
3.
Troy Tulowitzki
,
Rockies
4.
Matt Holliday
, Cardinals
5.
Adrian Gonzalez
,
Padres
6. Carlos Gonzalez, Rockies
7.
Ryan Zimmerman
,
Nationals
8.
Aubrey Huff
,
Giants
9.
Ryan Braun
,
Brewers
10.
Dan Uggla
,
Marlins
How crazy is it that Albert Pujols can lead the league in home runs and RBI, put up an OPS of 1.011, and be seen as having an "off" year? That's how high the bar is for that guy. I'll have no problem with it if he wins his third consecutive MVP, I just think Votto was a hair better. The guy led the league in on-base percentage AND slugging percentage. And you can't say his number are a product of the hitter-friendly ballpark in Cincinnati, because he hit 52 points better on the road than at home.
Evan Brunell
1. Joey Votto, Reds
2. Albert Pujols, Cardinals
3. Adrian Gonzalez, Padres
4. Carlos Gonzalez, Rockies
5.
Brian McCann
,
Braves
6. Troy Tulowitzki, Rockies
7. Matt Holliday, Cardinals
8. Dan Uggla, Marlins
9. Ryan Zimmerman, Nationals
10.
Andres Torres
, Giants
Votto was transcendent, cracking the .400 OBP and .600 slugging percentage barrier and somehow outperforming Albert Pujols in virtually every category. The aborted chase for the Triple Crown was also fun while it lasted.
C. Trent Rosecrans
I voted for the NL MVP and the BBWAA asks voters not to release their ballots before the voting is announced, so I won't reveal my ballot yet. I will, however, post it and some of my thinking on Nov. 22 after the award is announced.
MLB Facts and Rumors National League Most Valuable Player
And Joey Votto wins his first MVP, while Pujols is second, followed by another first baseman, San Diego's Adrian Gonzalez. In this poll (of two), Carlos Gonzalez finishes fifth, after teammate Troy Tulowitzki. The real results come out Nov. 22, but expect Votto to top Pujols again.
-- C. Trent Rosecrans
For more baseball news, rumors and analysis, follow @cbssportsmlb on Twitter or subscribe to the RSS feed.