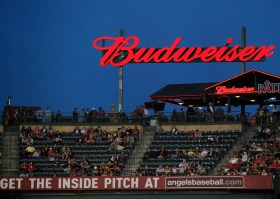 OK, say
Jayson Werth
signs a free-agent deal this winter and then later
Carl Crawford
signs with the same team for way, way more. Does Werth then get to go back to the team and tell them they have to pay him more?
Of course not. In that case Werth miscalculated his value, and/or the market, and he's just screwed.
Anheuser-Busch says Major League Baseball is trying to pull an equivalent stunt (in this scenario, MLB is Werth), wanting to undo a sponsorship agreement with the brewer, apparently after seeing how much the NFL got in a blockbuster deal. A-B, the exclusive beer of baseball for three decades,
responded today
with a lawsuit, accusing Major League Baseball Properties of reneging on an agreement on renewing its sponsorship and demanding "exponentially higher" fees.
According to the lawsuit, MLBP and A-B reached agreement in April on renewing the brewer's sponsorship. Weeks later, MLBP came back and demanded a renegotiation due to "a change in marketplace dynamics." Hmm, what could that change in dynamics have been? Do you think maybe it had something to do with the announcement in May that Bud Light was going to replace Coors Light as official beer of the NFL, a deal that the
Wall Street Journal
reported to be worth $1.2 billion over six years?
This could be a fun trial. The Budweiser lawyers could arrive on a big sleigh pulled by Clydesdales, while MLB could have Rafael Palmeiro jabbing his finger at the jury and Mark McGwire could testify that he doesn't want to talk about the past.
-- David Andriesen
For more baseball news, rumors and analysis, follow @cbssportsmlb on Twitter or subscribe to the RSS feed.