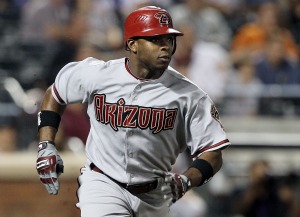 Baseball circles have been buzzing about the apparent sudden availability of
Diamondbacks
outfielder Juston Upton on the trade market, and it's a good case study in how non-stories become something they're not in the modern age.
It started with a
USA Today
GM meetings
setup story
in which Bob Nightengale talked with Diamondbacks GM Kevin Towers about the outlook for the meetings. Towers said this:
"I'm open to listening on anybody. We got more hits on Upton and [Stephen] Drew. They're difficult to move, but sometimes to make your club better, you have to move good players. You never know when a deal might present itself.''
Somehow, this turned into
"OMG! The D-Backs are trying to trade Upton!"
Well, no they're not. That was Towers saying, "Look, this team stinks, and I'm not going to shut any doors as I'm trying to make it better." That's the position of any decent GM of a last-place team.
Is Upton available? Yeah, in the same way that everyone is theoretically "available." If the
Rangers
offer to send the
Giants
Josh Hamilton
,
Neftali Feliz
, their top five prospects and enough cash to cover all of their contracts, sure,
Buster Posey
is "available."
Upton is one of the best young players in baseball, and is dirt cheap. He's a franchise cornerstone for the Diamondbacks to build on. They're not shopping him, but Towers is saying he's open to being blown away. Asked by
Jon Heyman
of SI.com what it would take to pry Upton from Arizona, one Diamondbacks official said "everything."
-- David Andriesen
For more baseball news, rumors and analysis, follow @cbssportsmlb on Twitter or subscribe to the RSS feed.