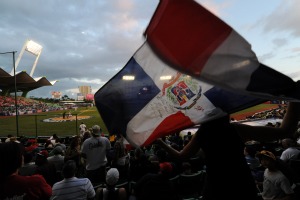 United States investors have found another means to make money: financing the baseball training of impoverished Dominican Republic players in exchange for a cut of their eventual signing bonus.
A New York Times report outlines how investors have begun building academies, financing trainers or negotiating directly with players' families to lend money in exchange for a higher rate of return.
And this service of training young ballplayers to play stateside isn't being done out of the goodness of the investors' hearts.
"Are we there to make a profit? Absolutely," said Gary Goodman, a real estate lawyer who opened up an academy in 2009. They do so by taking a percentage -- sometimes up to 50 percent -- of the player's signing bonuses and splitting it among investors and trainers.
Making money is paramount, and the state of the academies prove that.
One such academy is run by Greg J. Maroni, whose father finances the academy and owns several fast-food franchises as a dentist. Their academy is in the town of Don Gregorio and is a small house surrounded by concrete walls and metal fences with barbed wire on top. The entrances are locked, with the inside housing a dormitory for roughly 12 players as young as 14. There is one large bedroom with bunk beds and a small bathroom with two showers.
So why the barbed wire?
"It's to make sure they don't get out," said Carlos Paulino, a trainer who works with Maroni. Paulino was refering to incidents where players went over the fence, one who did so to go find girls.
Paulino would later retract the statement, with Maroni clarifying that they were "not running a concentration camp."
Another academy, this one by Goodman and Alfredo Arias, a former minor leaguer, has roughly 12 players "jammed in as if on a ship," the Times writes. At one point, 30 players lived in a house that saw three bunk beds lining a wall.
"We need to upgrade the facility," Mr. Goodman said. "I mean, we functioned this year without air-conditioning in the dormitory."
Great. Meanwhile, Arias lives in a gated community and expects to make a profit of $1 million in signing bonuses off an initial investment of $400,000 by Goodman and another person.
Look, these Dominican players need help, and although these investors are keeping an eye on the bottom line, they are also helping the children work toward a future that could end up very lucrative -- both for them and the investors. But these are children, and you can't bottle them all into a room with skimpy amenities and expect not to be looked at with a jaundiced eye. This could end up being a very good thing for the children, but it's currently not.
"Buscones [-- Dominican agents --] in the Dominican Republic are in the business of selling children," said David P. Fidler, a professor of international law at Indiana University.
"And it's very disturbing that American investors would come in to profit from a system that exploits and discriminates against young children."
New Mets GM Sandy Alderson agrees. Prior to taking the New York gig, Alderson was overseeing the activities of baseball in the Dominican Republic, working to revamp operations in the country.
"If the investment is benefiting the player in some way and improving his circumstances, providing, as I said, educational opportunities, etc., then it can be a good thing," Alderson said. "But generally speaking, there is no assurance that is happening."
Indeed, education is an afterthought. What matters the most is working out, playing baseball and looking good in front of scouts. Many players said that if this career did not work out for them -- and for the majority, it won't -- they would go back to school. But why can't they go to school during training?
Even the elder Maroni was unaware if his own players went to school.
"It would be a sure nice goal in the long term," he said. "Maybe we can give them some English and basic arithmetic classes so they know what a Social Security number is and know a checkbook."
Alderson is concerned about the trend of investors flocking in and looking at dollars and cents and not just plain common sense.
"These are people who have given up other possibilities, forgone other opportunities, have not gone to school," Alderson said.
"It's not just mailing in a check to some mutual fund and hoping that you're going to get a return."
-- Evan Brunell
For more baseball news, rumors and analysis, follow @cbssportsmlb on Twitter or subscribe to the RSS feed.