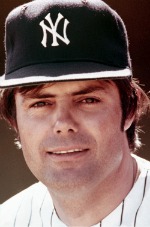 Now that Lou Piniella is retired, could a return to the
Yankees
be in the cards?
Piniella has a standing invitation to go to New York for Old-Timers Day at Yankee Stadium next season and co-chairman Hank Steinbrenner thinks Sweet Lou will show up as
ChicagoBreakingSports.com
reports.
Piniella was at the Yankees' fantasy camp recently and spent 30 minutes talking with Steinbrenner, whom he is familiar with thanks to managing the Yankees from 1986-88, compiling a 224-193 record. He also played in New York for 11 seasons frim 1974-84. (Yes, he ended up managing the Yankees after just one season in between being a player and manager.) Piniella's claim to fame in New York is his defense in right field during the one-game playoff between the Yankees and
Red Sox
in 1978 -- the famous Bucky Dent game.
Right field was besieged by the sun, and Piniella played superb defense, losing Jerry Remy's liner in the ninth in the sun but recovering to hold Rick Burleson at second base. He also snared Jim Rice's flyout in the ninth that somehow did not leave the stadium. He also caught a big fly from Fred Lynn that may have sealed the game had it fallen. His outfield defense and contribution at the plate was a big reason the Yankees won the World Series in 1977 and 1978.
If and when Piniella returns to Yankee Stadium, he'll certainly do so with an ovation.
Steinbrenner mentioned that he hoped Piniella would come back to work for the Yankees as an advisor. But even if not, Piniella will "always be a consultant for me," Steinbrenner added.
-- Evan Brunell
For more baseball news, rumors and analysis, follow @cbssportsmlb on Twitter or subscribe to the RSS feed.