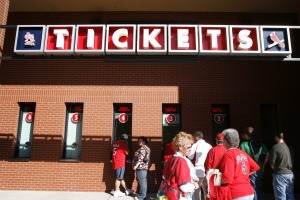 You've got to love marketing speak. The
Cardinals
say their ticket prices next season will be subject to a new "dynamic pricing" model in which ticket prices "float" to "create a better match of supply and demand."
Hear that? It's dynamic! It floats! Who doesn't like things that float? Balloons. Fluffy clouds. Inner tubes down a lazy river.
It sounds so much better than saying "we've come up with a new way to make sure we can drag every possible penny out of our fans," which is really what "dynamic pricing" is. The system, previously employed on a limited basis by the
Giants
and
Astros
, will allow the Cardinals to tweak the prices on tickets daily using factors such as pitching matchup, weather and bobblehead nights.
"It's something that people are familiar with in other industries, such as the airline industry, where prices are floating based on factors that change over time," Cardinals president Bill DeWitt III told the
St. Louis Post-Dispatch
. "We just felt like there's been enough research to see it as a win-win for the fans and for the club."
Yes! It's a win-win for fans! Wait, let's think about this. You ever hear of things "floating" downward?
The Giants admit that their dynamic pricing resulted in increases 90 percent of the time. Plus, the Cardinals say they can't lower prices on tickets to levels lower than what season-ticket holders paid for similar seats, or the season-ticket holders would riot. So even the actual demand would dictate that tickets for a lousy game (like a September game, in the rain, against the
Pirates
, with both teams eliminated and throwing call-up pitchers) might cost $2, you're not going to see that adjustment. But every time
Tim Lincecum
rolls into town, the Cardinals cash in.
Doesn't that sound dynamic?
-- David Andriesen
For more baseball news, rumors and analysis, follow @cbssportsmlb on Twitter or subscribe to the RSS feed.