If you want to see
Bryce Harper
play, his Scottsdale Scorpions will be in the Arizona Fall League championship on Saturday, with the game on MLB Network (3 p.m. Eastern).
Nationals
hitting coach Rick Eckstein has already watched Harper in Arizona and came away impressed.
"He attacks the baseball, which is great for a hitter," Eckstein
told MLB.com's Bill Ladson
. "The days that he wasn't playing, he treated those days as if he was playing. He would go out during batting practice and get reads off the bat in right field and center field. He was working to get better in the outfield. It was impressive watching him work."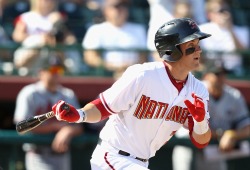 As a member of the "taxi squad," Harper's been limited to playing two days a week. One of those days is Saturday, so he'll be able to play in Saturday's game against the Peoria Javelinas, who feature Seattle second baseman
Dustin Ackley
, Houston first baseman Koby Clemens and Toronto shortstop Adeiny Hechevarria, among others.
Astros
right-hander Kyle Greenwalt will start for the Javelinas.
Harper isn't expected to start in the game, though he is expected to play. Nationals outfield prospect Michael Burgess will get the start in right field.
Harper has had limited opportunities playing just twice a week, but he's certainly capitalized, hitting .343/.410/.629 in nine games, hitting a home run, three double and two triples in just 35 at-bats.
"I think we would be doing ourselves a disservice trying to put that timeline together," Eckstein told MLB.com about when Harper should expect to make the big leagues. "Go into A ball and succeed. He gets a taste of coming up through the minor leagues. He is advanced, but he just turned 18. We have to understand that, too. I think he could compete at a high level, but you don't want to risk that developmental time mentally. I'm very impressed with every part of him as a person, as a player, the way he thinks and his commitment to excellence."
-- C. Trent Rosecrans
For more baseball news, rumors and analysis, follow @cbssportsmlb on Twitter or subscribe to the RSS feed.