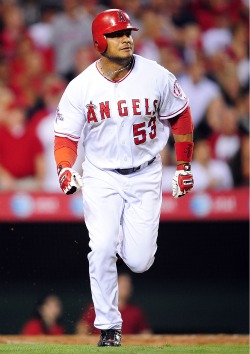 One of the
Angels
' primary targets this offseason is Carl Crawford.
In many respects, he's the perfect player for the Angels, who love players with strong defense, who play the game with their wheels and can hit for a solid batting average and chip in on the power department as well.
However, if he joins the Angels, it would put the onus on one of the incumbent outfielders to become a DH.
Peter Bourjos
, who took over center field for Los Angeles near the end of the year, certainly isn't eligible for that because there are too many questions surrounding his bat and much of his value is tied up in being a fantastic defender.
Torii Hunter
, meanwhile, may have been moved from center for Bourjos, but is still a solid defender and doesn't need to move out of right field.
Where the fit comes in for DH is when you look at
Bobby Abreu
, who has been a liability on defense for some time now but has managed to remain as right and left fielder for the Angels. If Crawford decides to head to L.A., the odds are Abreu will be the one headed to the DH position.
"I have no problem with that," Abreu said Friday to MLB.com . "If it's something that's going to make the team better, I'm for it. I've got no problem."
The move to DH may actually be a boon for Abreu, who will turn 37 prior to Opening Day. His risk of injuries would be lessened as the DH, improving his chances of playing in at leat 150 games for 14 straight seasons. If he can pull off that feat in 2011, he will have beaten out Willie Mays for that distinction, having tied Mays in 2010 with 154 games played. In an attempt to crack the 150-game barrier, Abreu won't be playing winter ball.
"I decided it would be better just to rest," said Abreu.
With a move to DH, Abreu might be able to bounce back with the bat after hitting just .255/.352/.435 in 667 plate appearances with 20 homers. Abreu had hit .293/.390/.435 for the Angels in 2009. His batting average is all that stands between Abreu and his career numbers, and focusing on hitting could address that issue in what will be the former Phillie and Yankee's final season of a two-year contract.
Abreu realizes that he needs to improve on his season, just like everyone on the team needs to to bounce back from an 80-82 record, the first time since 2003 that Los Angeles finished under .500.
"We need everybody to step up and have a good year," Abreu noted.
And the way Abreu may get his good year is by moving to the DH. First things first, though: Get Carl Crawford.
-- Evan Brunell
For more baseball news, rumors and analysis, follow @cbssportsmlb on Twitter or subscribe to the RSS feed.