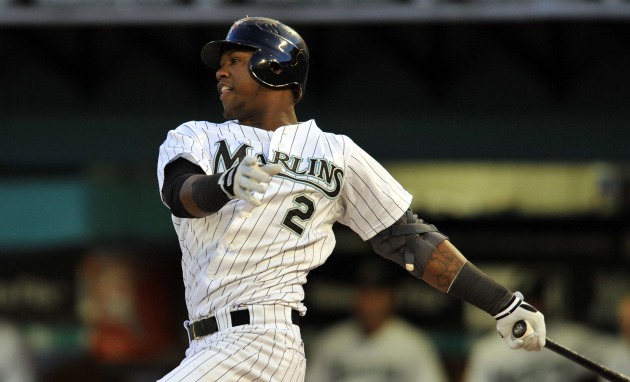 Manager Edwin Rodriguez revealed Saturday that he already knows who will be the first three hitters in his lineup for 2011.
As Joe Capozzi of the
Palm Beach Post
reveals,
Chris Coghlan
will lead off, followed by new Marlin
Omar Infante
and
Hanley Ramirez
(pictured).
Coghlan, who is expected to play center field (or possibly second or third base), is not a burner, but is still capable of keeing pitchers honest on the bases. He had 10 swiped bags in 91 games before suffering a season-ending injury. Coghlan struggled with a .335 OBP in 2010, but had a .390 mark the year prior and should settle in around a .380 OBP, more than capable enough for a leadoff man.
Infante, meanwhile, is slated to play second but could end up moved to third. It will be his first truly full season as a starter although he cracked 500 plate appearances twice in 2004 and 2010, when he was an All-Star with Atlanta and hit .321/.359/.416 in 506 PA. Infante's on-base percentage isn't exactly impressive (career .274/.319/.395 line) but has shown the last few seasons he can handle the stick and should hit for a bating average around .300. The No. 2 spot is general looked at to be filled with someone who has good contact skills, and that's Infante.
Then you have star shortstop Hanley Ramirez, who is one of the rare five-tool players in the game and can impact the game many different ways. Hitting Ramirez third is a no-brainer, as he's the best hitter on the team.
The rest of the lineup is unclear, although Rodriguez did say that power-hitter Mike Stanton should end up in the No. 5 or 6 spot. The club also has left fielder
Logan Morrison
, first baseman
Gaby Sanchez
and catcher
John Buck
in the fold, with one vacancy. Given the club's flexibility, that vacancy could be filled by either a center fielder, second baseman or third baseman, with Coghlan and Infante filling whichever spots are open.
Given Buck's power bat and pricey three-year, $18 million pact, he's likely to clean up. Assuming Stanton hits behind him, that likely leaves Morrison slotted in at the sixth spot. It's difficult to place Morrison in the No. 5 spot ahead of Stanton, but Rodriguez may want to break up the slew of right-handed batters starting with Infante and continuing through Buck. However, Stanton's power commands a spot near the top of the order, which will leave No. 6 for Morrison.
Behind Morrison figures to be first baseman Gaby Sanchez, who bats lefty. That leaves one vacant spot. If the
Marlins
opt to fill it internally, either
Emilio Bonifacio
-- who couldn't hit the broadside of a barn with a bat -- will fill in or prospect Matt Dominguez. Bonifacio is a switch-hitter, Dominguez bats right-handed.
Here's a projected Marlins lineup, plus their handedness:
Chris Coghlan, L
Omar Infante, R
Hanley Ramirez, R
John Buck, R
Mike Stanton, R
Logan Morrison, L
Gaby Sanchez, R
Vacant
-- Evan Brunell
For more baseball news, rumors and analysis, follow @cbssportsmlb on Twitter or subscribe to the RSS feed.