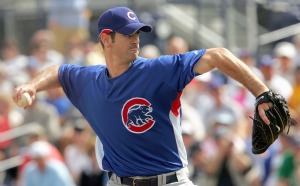 It's time for the annual Mark Prior comeback story.
By now, the story has entered baseball lore alongside David Clyde: a top college starter is rushed to the majors, becomes a major part of the team's success from 2002-03 but is run into the ground by the manager. He struggles with losing control over the next two years, gets bombed in nine starts and falls off the face of the earth.
Prior has yet to return to the majors since that 2006 pasting, but to his credit, the now 30-year-old isn't quitting. The last three-to-four years have been stolen from Prior, as he's pitched just one inning in those four years, that lone inning coming in 2010 when he appeared in one game for the
Rangers
.
Now, he's back on the market and is currently deciding between three teams as Nick Cafardo of the
Boston Globe
reveals. Prior, who has had a hell of a time recovering from a torn labrum, will decide soon which team to sign with.
The signing team may finally get something out of Prior this year after previous comeback stints with the
Cubs
,
Padres
and independent ball. Prior has improved his fastball from the low 80s to low 90s. Couple that with a readiness to return to the field (for now), and Prior really may be ready to take the next step on the comeback trail.
The Rangers may be in the lead for Prior, given that the club originally signed the righty with the long-term in mind, not 2010 as Jeff Wilson of the
Ft. Worth Star-Telegram
said.
-- Evan Brunell
For more baseball news, rumors and analysis, follow @cbssportsmlb on Twitter or subscribe to the RSS feed.