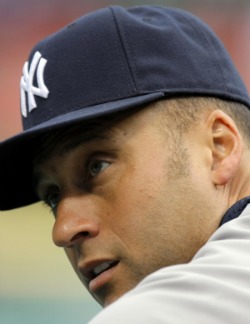 Derek Jeter's agent can't understand why the
Yankees
are playing hardball publicly in contract negotiations for the shortstop.
"There's a reason the Yankees themselves have stated Derek Jeter is their modern-day Babe Ruth," agent Casey Close told the
New York Daily News
. "Derek's significance to the team is much more than just stats. And yet, the Yankees' negotiating strategy remains baffling. "
The Yankees have publicly said they will pay Jeter as a baseball player, and not for any intangibles off the field.
And yet, Jeter is perhaps the one player in all of baseball in which his intangibles may matter. His attitude, his way of going about business, what he means in Yankee lore... all of that is tipped in Jeter's favor.
And yet, the Yankees are adamant about not falling in the same trap they did with
Alex Rodriguez
, who is now a burden on their payroll and will be for years to come. New York understands they need to pay over and above market value for Jeter -- and have done just that in their rumored three-year, $45 million offer -- but won't go crazy.
"They continue to argue their points in the press and refuse to acknowledge Derek's total contribution to their franchise," Close added.
Meanwhile, Jeter is plugging away on his training program with Jason Riley, the person responsible for drastically improving Jeter's defense and allowing the Captain to have a strong offensive season in 2009. While Riley and Jeter's efforts last offseason went for naught, Riley is confident in Jeter's abilities as
ESPN New York
reveals.
"The desire to be the greatest can never be turned down by Father Time," Riley said, while revealing that Jeter told Riley after the 2007 season that he wanted to play eight to 10 more years. That would put Jeter playing through 2017 and age 43, a daunting task for anyone, never mind one of the greatest shortstops to play the game.
Can Jeter do it? Riley thinks so.
"I don't think anything can hold Derek back other than himself," he said. "If he decides to hang it up before [he turns 43], then that will be his decision. If Derek decides at 41 he's already given his best years, then that's where it will end. But if he decides to go until he's 43, he'll do everything in his power to play the game at a high level and help the team through that time. I think there's so much determination inside of Derek that he can do it."
If Jeter wants to play until 43, that's one thing. It's another thing entirely for Jeter to expect to stay at shortstop through then, and the longtime Yankee has no illusions when it comes to that. He expects to eventually move positions and is willing to do so for the good of the team, as Riley says.
But first, 2010. Can he bounce back from a year in which he was no better than
Marco Scutaro
, but earned $16 million more than Boston's shortstop?
"You can't put an age on the heart of an athlete, and Derek's got one of the purest hearts in sports," Riley said -- matching up with the words of one Reggie Jackson, who
spoke to CBS Sports last week
. "He's not going to allow himself to have another down year, if he even considers 2010 a down year. His internal drive separates him from others. I've worked with very few people who go after the game like he does."
-- Evan Brunell


For more baseball news, rumors and analysis, follow @cbssportsmlb on Twitter or subscribe to the RSS feed.