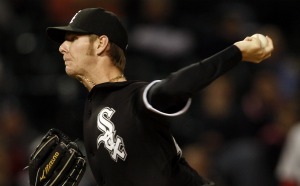 The
White Sox
are among the teams with the worst farm system, thanks to the owner forcing GM Kenny Williams to adhere to bonus slot recommendations from the Commissioner's Office despite no reason not to. Complicating matters is William's eagerness to contend every season, even if that means trading away solid prospects.
However, the ChiSox still have a couple intriguing pieces in the farm system, highlighted by
Baseball America
's No. 1 prospect of the system in
Chris Sale
.
Sale (pictured) was plucked in the first round of the 2010 draft and pitched out of the bullpen down on the farm to get him ready for the majors. He was able to contribute to Chicago down the stretch drive, which tells you everything you need to know about how close Sale is to the majors.
With the season over, however, the White Sox are rightly returning Sale to his starting job. Sale draws comparisons to Randy Johnson given his stuff and overall build, but placing a Hall of Famer tag on someone who hasn't even put in a full year of legal drinking yet is a lot to ask. If Sale can stay healthy, he could emerge as an ace in Chicago. If he can't or has durability issues, the closer's job in his future.
Backing up Sale on the prospect lists are two third basemen in
Brent Morel
and
Dayan Viciedo
.
Morel is the player that figures to stick at the hot corner and could win the starting job at third in spring training although he will have to fend off
Mark Teahen
and
Omar Vizquel
. Morel's game isn't power, but rather hitting for a high average, although power could eventually develop.
Viciedo, meanwhile is a Cuban defector who has game-changing power but can't draw a walk to save his life. That's not quite an impediment to success (as
Vladimir Guerrero
can attest to) but it is a major stumbling block and it remains to be seen if "The Tank" can overcome that deficiency. While he has been a third baseman to date, many view his future at first or DH. If Paul Konerko does not return to the club, Viciedo could be the heir apparent at first.
The rest of the list:
1. Chris Sale, lhp
2. Brent Morel, 3b/ss
3. Dayan Viciedo, 1b/3b
4. Jared Mitchell, of
5.
Eduardo Escobar
, ss
6. Gregori Infante, rhp
7. Jacob Petricka, rhp
8. Brandon Short, of
9. Trayce Thompson, of
10.
Anthony Carter
, rhp
-- Evan Brunell


For more baseball news, rumors and analysis, follow @cbssportsmlb on Twitter or subscribe to the RSS feed.