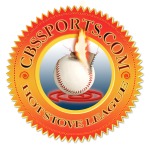 Through Nov. 26, CBS Sports' MLB Facts and Rumors will be profiling both free agents and trade candidates who will help stoke the fires of the Hot Stove League. Today: trade candidate .
The Royals are entertaining the thought of trading ace pitcher Zack Greinke, who won the 2009 AL Cy Young award with a sterling 2.16 ERA in 229 1/3 innings, punching out a staggering 242 batters and walking 51, allowing just 11 home runs.
Greinke may have served as a trailblazer of sorts for
Felix Hernandez
to win the Cy for this past season with a 13-12 record thanks to Greinke's own 16-8 mark -- while more impressive than Hernandez', even that mark sparked debate among voters.
However, Greinke is disillusioned about the constant losing in Kansas City. Despite a ton of young prospects who could be ready to make a major impact and push the team toward contention in 2013, Greinke's own deal only runs through 2012 and all indications are that he has had enough of the losing and may look to depart the team as a free agent. In fact, some have gone as far to say that Greinke was disillusioned and disinterested at times during this past season, a part of why he finished with a 4.17 ERA in 33 starts, with a tumble in his strikeout rate.
While Greinke is unlikely to go to New York or Boston or any other rabid big-market team due to his own personal preferences and to help manage his social anxiety disorder, he should be in plenty of demand as a free agent and will be able to cash in. That's made the Royals evaluate whether or not to move Greinke. Moving him now would give the acquiring team two years of his services, which in turn would make the acquiring team far more comfortable in giving up copious amounts of talent like Kansas City would demand.
STATS
2010: 10-14, 33 GS, 220 IP, 4.17 ERA, 3.76 xFIP, 55 BB, 181 K

Career: 60-67, 210 G, 169 GS, 1,108 IP, 3.82 ERA, 3.91 xFIP, 280 BB, 931 K

WHAT IT WILL TAKE

Dayton Moore wants high-quality (obviously) players for Greinke and seeks a pitcher with similar upside to Greinke. Greinke is going to command a two- to three-player package, and Moore is going to look for the kind of return that the
Braves
coughed up to the
Rangers
for
Mark Teixeira
.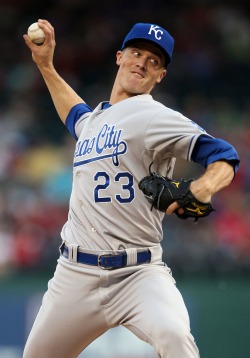 That return was shortstop
Elvis Andrus
, who finished second in Rookie of the Year voting in 2009 and then made the All-Star team in 2010 along with Nefali Feliz, who notched 40 saves in his first season as closer. The club also surrendered
Matt Harrison
, who has been valuable as a depth starter, but whose future is in the back of a NL rotation. Jarrod Salatalamacchia -- the headliner of the trade -- was later sent to the
Red Sox
from Texas and has a chance to start for Boston in 2011. Lastly, Beau Jones, a prospect, was in the deal. Jones, 24, completed a bullpen campaign at Double-A and still has a chance to emerge as a middle reliever.
Bottom line: that trade worked out wonderfully for Texas, and it also scared many teams off meeting that type of asking price down the road. It's unlikely Moore can get as good a package that Texas got, but K.C. will still get strong offers.
WHERE HE COULD GO

While it would be difficult for the
Rays
to justify going after Greinke only to have to extend him in two seasons, the Rays'
deep farm system
does stack up. There's near-zero chance Tampa would cough up top prospect
Jeremy Hellickson
, especially with the risk of Greinke departing as a free agent.
But second-best prospect Matt Moore would cause the Rays to salivate. But who to pair him with? Tampa can't deal outfielder
Desmond Jennings
and would likely blanch at the inclusion of a second pitcher like
Jake McGee
unless the player was farther off (of which they do have). The final piece could include a catcher in Drew Vettleson, as it's unlikely Wil Myers sticks behind the dish.
Other teams with high-end pitching prospects include the Red Sox, who could dangle Casey Kelly along with outfielder
Ryan Kalish
if Greinke agreed to give Boston a try. It would be interesting to see Toronto try to pluck Greinke with
Kyle Drabek
as the front piece.
The Royals may not want to deal within the division, but if the
Tigers
dangled
Jacob Turner
, it may be too much to pass up. The Rangers, who could make a big push if and when Cliff Lee signs with the
Yankees
, have a bevy of prospects to offer up including Martin Perez. If the Braves felt like giving the trade route another go, Julio Teheran could be dangled.
There are plenty of teams with top pitching prospects. The issue is two-fold: Will those teams sacrifice the chance of a cost-controllable ace for years for someone like Greinke? And second are the secondary pieces. Some teams with top-end pitching prospects may not have enough to measure up, or could blanch at tacking on even more.
PREDICTION

Greinke goes nowhere, but a rough start to the season and increased disillusionment from Greinke will make him a hot and heavy trade target at the trade deadline. And that's when he'll be traded.
OTHER PROFILES

Jason Bartlett
|
Adrian Beltre
|
Carl Crawford
|
Adam Dunn
|
Prince Fielder
|
Cliff Lee
|
Victor Martinez
|
Dan Uggla
(TRADED) |
Justin Upton
|
Jayson Werth
-- Evan Brunell
For more baseball news, rumors and analysis, follow @cbssportsmlb on Twitter or subscribe to the RSS feed.