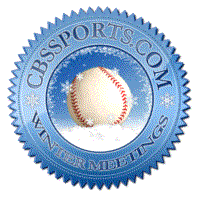 From December 6-9, baseball's offseason will kick into high gear. Team officials, agents, players and media all will descend upon Orlando, Fla., with clubs hoping to swing a trade or ink a contract with a free agent. This week, MLB Facts and Rumors will preview an aspect of the Winter Meetings each day. Monday: The top things to expect from the meetings.

To understand what to expect, it may help to know just exactly what happens at the meetings.

The event was originally created by minor-league baseball, which wanted a meeting place every offseason to discuss matters pertaining to the farm system for MLB. That's why the minors remain responsible for choosing the location of the meeting and coordinating the event. However, major-league baseball has co-opted the meeting for its own purposes, finding it useful to have players, agents, GMs (and yes, the media) all in one spot to accelerate free-agent or trade talks. On the final day of the meetings, baseball holds its Rule 5 draft.

So, what to expect from this extravaganza?

1. PLENTY OF RUMORS
Obviously, the amount of information is going to be voluminous, even with a new rule instituted that is aimed at reducing the amount of leaks that agents, players and clubs give the media for their own personal gain. There's going to be enough rumors going around, and while some or even most may have a tiny morsel of truth in them, it's important to keep it in perspective: most rumors simply won't pan out or aren't as impressive as they sound.

If a team is interested in trading for a certain player, for example, it doesn't mean both sides are deep in talks -- if they even have discussed the player at all.

2. SOME NEWS
So yeah, there's going to be plenty of rumors -- and most of them won't pan out. But that doesn't mean there won't be actual news being made. Some significant free agents will sign on the dotted line and you'll probably see a couple blockbuster trades. The Tigers, for example, pulled off the Miguel Cabrera/Dontrelle Willis trade during the 2007 Winter Meetings.

Most teams will have a much clearer idea of which direction they are headed after the meetings. Contrary to popular opinion, teams don't operate on a linear timeframe. There are many avenues available to teams, and once more and more players come off the board, it will crystallize each team's plan of attack and strategy. The direction teams must go after the meetings does take on more of a linear strategy.

3. BOSOX/YANKEES-CENTRIC STORIES
You're going to hear a lot of rumors from the AL East titans in New York and Boston. The Yankees are hot to trot after Cliff Lee, and reports have Carl Crawford holding off on signing his own deal until Lee's future is known. That means you have the two top free agents on the market whose offseason might (will) be influenced by the Yankees.

And as for the Red Sox? Boston is in store for a busy offseason, with plenty of holes to fill and the sand in the hourglass running out to fill it. The best catcher on the market in Victor Martinez is now a Tiger, and the Red Sox have to find a way to compensate for his loss.

The Yankees' capacity for making news can't be doubted, but the Red Sox tend to operate a different way and may come away with a quiet week although there will be plenty of ink devoted to the team.

4.
SOMETHING OUT OF LEFT FIELD

No, not an errant Manny Ramirez throw. At every Winter Meeting, there tends to be a trade or free-agent signing that will catch people off guard.

For the most part, the trade arena is where most of these
occurrences
happen. No one saw a Curtis Granderson trade to the Yankees until the deal was on the verge of completion.

So what is something crazy that could happen? Well, the Cardinals might already be aware of the fact they have no chance in extending Albert Pujols. (This is completely conjecture.) They certainly wouldn't share that sentiment publicly, but if that determination has already been made, the club could decide to strike for a big-salaried player a year in advance to go for it all in 2011 alongside Pujols and then use that player to soften the blow of Pujols' departure. How would Jayson Werth look patrolling right field in Busch Stadium?

That's something that would qualify as coming out of left field and yet would make complete sense to the team -- just like it made sense for the Angels to strike for Torii Hunter just one season into Gary Matthew Jr.'s big deal that expires after 2011.


5.
TWITTER DOWNTIME
Over the last few seasons, Twitter has become an invaluable part of baseball's media and fans. Most columnists take to Twitter to divulge anything under the sun from opinions to game notes to rule clarifications to rumor-mongering. It's reached the point where Twitter is used to break news, followed by writing the story for the newspaper. Some prefer to do live blogs and put their focus on the blogs, but maintain a presence on Twitter to direct people to the latest.

There is an overwhelming amount of journalists, agents, bloggers and players on Twitter. The journalists in particular will be using Twitter heavily, especially as they run around from place to place. No longer do journalists feel comfortable about hanging onto news until they can sit down and bang out an article. It gets tweeted.

There figures to be well over a hundred media representatives at the meeting, all of which will tweet a dizzying array of news. For those who follow lots of journalists or bloggers, the volume of tweets may be too much to keep up. Given Twitter isn't exactly known for its consistent uptime, you can bank on Twitter crashing at some point.


That's why you should stay on CBSSports.com for the Winter Meetings, given that CBS Sports will have six representatives at the meetings. MLB Facts and Rumors will be along for the ride along with columnists Danny Knobler and Scott Miller, as well as Mark Morgan providing video snippets.

-- Evan Brunell
For more baseball news, rumors and analysis, follow @cbssportsmlb on Twitter or subscribe to the RSS feed.