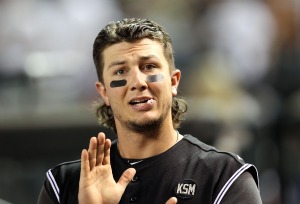 The
Rockies
have seldom been major players in the free-agent market, but they definitely have a track record for taking care of their own. And Monday night, word broke that they are on the brink of making a couple of major commitments.
The big one is essentially a lifetime deal for shortstop
Troy Tulowitzki
. He's already wrapped up through 2014, but the
Denver Post
reports that the Rockies are set to give him a seven-year extension worth $134 million that would take him through the 2020 season, when he'll be 36. It's an extraordinary move to commit guaranteed money to a player 10 years in advance, but the Rockies are gambling he'll be a perennial All-Star and in the end the deal will prove to be a bargain.
Tulowitzki was nothing short of phenomenal in 2010, leading all MLB shortstops in average (.315), on-base percentage (.381), slugging percentage (.568) and home runs (27). He missed more than a month after his wrist was broken by a pitch, or he might have put up some record-breaking numbers. He hit an insane 15 September home runs with 40 RBI. And by the way, he's also considered by many the best defensive shortstop in the game.
Hall of Famer Tracy Ringolsby of
insidetherockies.com
says that in addition to the existing contract, Tulo's new deal activates his 2014 club option at $14 million and adds $119 million for six additional years.
It will go down as a footnote now, but the Rockies also are poised to re-sign left-hander Jorge De La Rosa, which just a week ago seemed
extremely unlikely.
Troy Renck of the
Post
says it's unclear whether it will be a two- or three-year deal (things were thought to have broken down with De La Rosa's insistence on a four-year deal, but apparently the market was softer than he thought), which in the latter case would be worth about $30 million.
Big, big night for the Rockies.
-- David Andriesen
For more baseball news, rumors and analysis, follow @cbssportsmlb on Twitter or subscribe to the RSS feed.