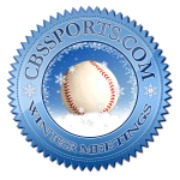 From December 6-9, baseball's offseason will kick into high gear as team officials, agents, players and media descend upon Orlando, Fla. This week, MLB Facts and Rumors will preview an aspect of the Winter Meetings each day. Today: The top 5 GMs expected to make noise at the meetings, plus those who should remain quiet.


There figures to be plenty of action at the Winter Meetings and much of it will happen on the floor with agents, media and team representatives, but those responsible for all the machinations will be ensconced in hotel suites, directing the action from above.
While some hotel suites will have plenty of neighbors looking over with a scowl at all the noise, others figure to stay quiet -- well, as quiet as one can amongst the hubbub, anyways. Let's look at who figures to be splashed among the headlines and those who will wait for another day.
WAKE ME UP WHEN IT'S OVER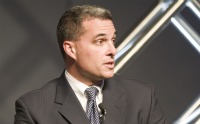 Dayton Moore
(pictured)
:
Moore has perhaps the best player on the trade market (unless one wants to pitch in
Adrian Gonzalez
' name) in
Zack Greinke
, but Greinke ain't going anywhere until Cliff Lee signs -- and even then it's a big if.
While one can't rule out Cliff Lee signing next week, there stands a good chance that may not come to fruition until the week or two after the winter meetings. Remember,
Mark Teixeira
inked with the
Yankees
January 6. Lee's market is more defined and aggressive than Teix, but the fact remains: the Lee saga could be far from over.
Sure, Moore figures to make his annual overpay for a mediocre player (cough Jeff Francouer cough), but that'll get overshadowed and is essentially a non-story anyways until K.C.'s baby boom arrives.
Sandy Alderson
:
Alderson was thought to be close to a deal with starting pitcher Chris Young, although those talks have not progressed as quickly as originally thought. This is roughly the caliber of player New York will be seeking. The core of the team (both financial and talent-wise) is already on the club. It's Alderson's job to supplement the team with the best opportunity to win in 2011 with the resources it has, while leaving the future (as immediate as 2012) open for making the team the way Alderson wants it.
That leaves Alderson discussing deals with lower-tier free agents, not enough for people to really sit up and take attention of at this point. However, his has been a bit of an aggressive free-agent market, so while lower-tier names usually don't fly off the board early, Alderson could net some in Orlando. Alderson is also thought to be trying to clear out salary, but that won't be easy to do and any
proposed deal that hits the rumor page
doesn't make sense.

Michael Hill
:
Larry Beinfest is still attached to the
Marlins
publicly in his role as president for any moves in baseball operations, but Michael Hill is the general manager in name and practice so he is the one of record making the moves Florida has done lately. And they've been plenty: trading
Dan Uggla
,
Cameron Maybin
and
Andrew Miller
and signing
John Buck
along with Javier Vazquez.
Is Florida done? No. Are they nearly done? Yep. Florida could stand to add one more bat, either at second, third or center, but may choose not to do so. The Marlins have wrapped up so much of their business quickly that there simply isn't much left to do.
Neal Huntington:
The
Pirates
aren't high on
anyone
's wish list, so even if Huntington is much in the same position as Alderson in only being able to afford mid- and lower-tier free agents as the Bucs desperately try to reverse the stink of 2010, no players will be signing in town anytime soon. There are no major trades on the horizon either.
Dan O'Dowd
:
O'Dowd is in a similar situation to Hill in that he's made most of his major moves. A mega-million extension for
Troy Tulowitzki
and enticing Jorge de la Rosa back to town were his grand strokes. Up next is fortifying the bench and infield, which may be done with a trade of
Seth Smith
or
Ryan Spilborghs
which would only register as a minor rumble on the Winter Meetings-ometer.
Ah, but as Michael Buffer (pictured) is famous for saying, these GMs figure to be prominently displayed...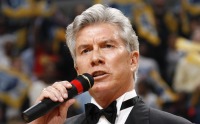 "LET'S GET READY TO RUMBLE!"
Brian Cashman
:
Cashman has his fingers in pretty much every major storyline this offseason. Let's look:
The No. 1 free agent target in the market, Cliff Lee, is the apple of New York's eye and they are determined to outspend everyone for his services.
The best position player on the market in Carl Crawford would be best served in seeing the Lee saga to play out in case the Yankees become a suitor. Jayson Werth's suitors will crystallize with Crawford off the block, so his own timeline is delayed.
The Yankees have the resources and may have the desire to get Zack Greinke from the Royals. The latest scuttlebutt has Greinke willing to waive his no-trade clause even for New York.
The public brouhaha between the Yankees and Jeter has been a major plot for a league-average player at this point in his career because of all the implications therein. The Yankees are dominating the media with this topic.
Oh, and about that greatest closer of all-time? Yeah, Mariano Rivera and New York may be edging closer to a contract extension that could be announced at the meetings to give the Yankees an injection of goodwill.
Yep, another bullet point. Don't forget about Andy Pettitte, trying to decide between retirement or rejoining the Yankees.
Dave Dombrowski
:
The
Tigers
have been very busy this offseason so far, snaring
Joaquin Benoit
and
Victor Martinez
while re-upping with
Brandon Inge
and
Jhonny Peralta
. A big outlay has been made, but the Tigers aren't done just yet. The club could stand to add another starting pitcher and definitely need to add an outfielder. You can't rule Jayson Werth out, although Detroit figures to shoot lower.

Andrew Friedman
:
Friedman has a major task ahead of him in rebuilding the
Rays
back to the level they achieved just months ago in the 2010 season. He has to start over with a bullpen while replacing Carl Crawford and Carlos Pena. The two major trade chips are
Jason Bartlett
and to a lesser extent, either
Matt Garza
or
James Shields
. Bartlett should be moved quickly, but Tampa's work will be far from done. The club needs to get as many chips as it can in order during the meetings.
Kenny Williams:
No Winter Meeting is complete without a patented Kenny Williams move. Unafraid to be aggressive in free agency and trades, Williams always seems to have something cooking. The team needs a catcher, outfielder and could even strike for a third or first baseman. How good would Adam Dunn look on that club?

Tony Reagins
:
The
Angels
have sure been quiet for a team expected to make a splash. Where's the Adrian Beltre signing? The flash of bulbs as Carl Crawford holds up his jersey? Rafael Soriano grinning as he assumes the mantle of closer?
You may see all (or some) of those at the Winter Meetings. The Angels have been laying in wait, shuffling their cards behind the scenes and could be poised to break through.
-- Evan Brunell
For more baseball news, rumors and analysis, follow @cbssportsmlb on Twitter or subscribe to the RSS feed.