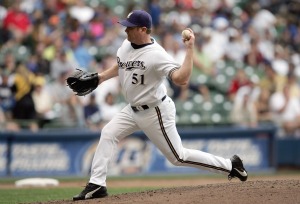 It's not much of a surprise, but Brian Shouse
told FOXSports.com's Jon Paul Morosi
that he's decided to retire. The 42-year old never made it out of Triple-A this season, signing with the
Rays
at midseason after getting cut by the
Red Sox
at the end of spring training.
What I'll remember about Shouse comes from 2007, when he was at his best with the
Brewers
. I was the beat writer covering the
Reds
and remember Scott Hatteberg talking to his teammates. He said if saw Shouse warming up, he might as well not take out his bat. He said his manager would be better off taking him out of the game.
Hatteberg was a delight to cover. He was always available and actually thought about a question before he answered. He was also a player with a ton of other interests. Although his manager at the time, Jerry Narron, noted Hatteberg would be an excellent manager, the catcher-turned-first baseman had several other interests, and had made enough money that he didn't necessarily need to run back to baseball after his career was over. Instead, he went to his family, his wife and daughters and has retired to his home in Oregon.
Anyway, Hatteberg was by definition a professional hitter. His ability to take pitches and work a count were duly noted in the book
Moneyball
. So to me, to hear Hatteberg say he'd more or less give up against one pitcher was pretty surprising.
But leading up to a game on April 16, 2007, Hatteberg was 0-for-17 in his career against Shouse. That night he singled to right, and told reporters after the game that he could now "die in peace."
He finished his career 1-for-22 in his career against Shouse with six strikeouts, including his next at-bat following his hit.
In his career, right-handers hit .312/.395/.468 against Shouse, while lefties like Hatteberg hit just .213/.262/.330. In 2008, lefties hit .180/.196/.290 against him.
Shouse made $2 million in 2008, the most he made in his 10-year career, but it's impressive that a guy who had cups of coffee in the big leagues in 1993 (six games with the
Pirates
) and 1998 (seven games with the Red Sox), found a way to get back to the big leagues for good in 2002, at the age of 33, and ended up pitching into his 40s. So, while nobody's ripping up the front page to remember Shouse's career, I remember him. And I'm sure Hatteberg and a ton of other lefties do as well.
-- C. Trent Rosecrans
For more baseball news, rumors and analysis, follow @cbssportsmlb on Twitter or subscribe to the RSS feed.