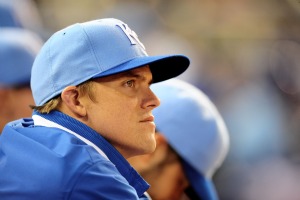 The
Royals
will not trade
Zack Greinke
within the division, as
SI.com
's Jon Heyman reveals.
This doesn't come as a surprise, as teams are usually skittish about dealing within the division -- the notable exceptions being the
Marlins
and the NL West.
The Royals would prefer not to see Zack Greinke oppose them 3-5 times a year for however many years down the road, an understandable sentiment. However, to close oneself off to four bidders is foolish. The Royals need to be focused on the deal that best shapes them up to contend for years to come -- and whether Greinke is in the division or not won't matter, especially as Greinke can choose where he ends up as a free agent after 2012 anyways.
Even if the Royals privately refuse to deal Greinke within the division, there is no benefit to making that sentiment public and giving other teams leverage in knowing the pool of bidders is smaller than it might otherwise be. In addition, at least not allowing oneself to listen to a division rival could cause K.C. to lose out on a deal that it may otherwise want. What if the
Tigers
dangled
Jacob Turner
and
Austin Jackson
? That would make GM Dayton Moore sit up and take notice.
Moore can't afford to get the Greinke trade wrong. Too much is riding on the future of the Royals, as whatever the return is for Greinke will pair up with the influx of prospects in the system in an attempt to finally get the club competitive.
Depriving oneself of bidders in such a monumental decision is the wrong path.
-- Evan Brunell
For more baseball news, rumors and analysis, follow @cbssportsmlb on Twitter or subscribe to the RSS feed.