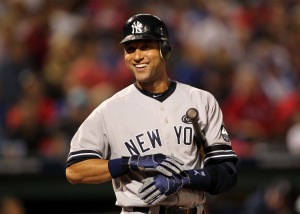 A week ago, it looked like it could be splitsville for Derek Jeter and the
Yankees
, but now it appears they're going to stay together.
After a day of apparently fast-moving negotiations, the
New York Daily News
reported Friday night that an agreement on a new contract for the Yankees' captain could be mere hours away, signed Saturday or even late Friday. And it looks like the terms are going to end up closer to what the Yankees wanted than what Jeter was after.
A source familiar with the talks tells the
Daily News
talks are centering around a three-year deal with a possible incentive-based option for a fourth, at a value of about $19 million a year. That lets Jeter save face by not taking a pay cut (his just-expired 10-year deal averaged $18.9 million), but is nowhere near his initial position that was
reported
to be as high as six years at $150 million. The Yankees are believed to have
started
at three years and less than $45 million.
On pure baseball merits, $19 million is considerably more, probably twice as much, as anyone not named Derek Jeter would command on the open market. But this deal would recognize Jeter's off-field value, which was important to he and agent Casey Close, while remaining manageable for the Yankees and potentially expiring before Jeter turns 40.
So basically, it's the kind of compromise everyone figured would be the end result of all the posturing.
UPDATE:
On Twitter
,
New York Times
reporter Michael S. Schmidt says Jeter's deal with be three years at $15 million to $17 million per season, with a
"creative hybrid type option" for a fourth year and notes the option is "not vesting and is highly unusual."
-- David Andriesen
For more baseball news, rumors and analysis, follow @cbssportsmlb on Twitter or subscribe to the RSS feed.