For both Padre fans left, you may be wondering what you're getting in exchange for
Adrian Gonzalez
.
Well, here's a quick look at the three players known to be going to San Diego: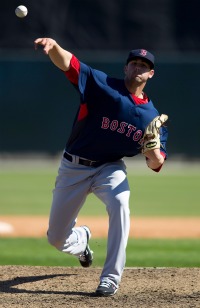 RHP Casey Kelly
(pictured): The
Red Sox
first-rounder (30th overall) in 2008 dropped in the draft some because he had signed a scholarship to play quarterback at Tennessee and many thought he wouldn't sign out of high school. Instead, the Red Sox signed him and gave him $3 million, which is a lot more than even Cam Newton could ask for, so Kelly went the baseball way.
Kelly wanted to play shortstop and was given that shot before being moved to the mound in 2009, where the Red Sox projected him the whole time.
Last season, Kelly, 20, pitched for Double-A Portland, going 3-5 with a 5.31 ERA in 21 starts. He struck out 81 and walked 35 in 95 innings. The Red Sox didn't appear worried about his ERA going from 2.08 at Single-A Greenville and Salem in 2009 to his five-plus ERA mark in the Eastern League (and 6.75 ERA in 16 innings in the Arizona Fall League), because his velocity increased to where he was throwing 90-94 with his fastball, touching 96, while he is still growing, too.
Kelly turned 21 in October and stands 6-foot-3, 210 pounds. He has a plus fastball, curveball and changeup, with good command. The other positive was how he handled his struggles at Portland.
Kelly comes from a baseball family, his father, Pat, was a catcher in the big leagues and currently a minor-league manager in the
Reds
system.
Baseball America
ranked Kelly as the top player in the Red Sox system.
1B Anthony Rizzo:
The best comp is
from Alex Speier of WEEI.com
-- 20-year old Adrian Gonzalez at Double-A Portland in 2002: .266/.344/.437, 17 HR, 96 RBI in 138 games. Last year the 20-year old Rizzo played at Portland as well, hitting .263/.334/.481, 20 HR, 80 RBI in 107 games.
Between Class A Salem and Double-AA Portland, Rizzo hit 25 homers and had 100 RBI in 136 games.
Those numbers out of a high-school kid -- Rizzo was a sixth-round pick in 2007 out of Florida -- are impressive enough, but consider what he went through to get there. When he was at Class A Greenville in 2008, he was diagnosed with limited stage classical Hodkin's lymphoma and missed the rest of that season to get treatment. Since then, he's been cancer-free and obviously regained all his strength.
Rizzo has struggled against left-handers and has a reputation as a good defensive first baseman.
Baseball America
ranked Rizzo as the No. 3 player in the Red Sox system.
OF Reymond Fuentes:
Fuentes is the cousin of
Carlos Beltran
, and has drawn comparisons to the former All-Star. Fuentes was just the sixth Puerto Rican ever drafted in the first round of the draft when the Red Sox took him 28th overall in 2009.
In his first full season as a pro, Fuetntes hit .270/.328/.377 at Class A Greenville, hitting five home runs and driving in 41 in 104 games, while stealing 42 bases. He can flat-out fly.
South Atlantic League managers rated him as the best defensive outfielder in the league, according to
Baseball America
.
Fuentes is still skinny -- listed at 6-feet, 170 pounds -- the left-handed throwing, left-handed hitting outfielder could add some pop with some time. He will turn 20 in February.
Baseball America
ranked Fuentes as the No. 6 player in the Red Sox system.
None of the three figure to see PetCo Park in 2011, but Rizzo and Kelly could be ready for 2012.
The
Padres
will also get a player to be named.
-- C. Trent Rosecrans
For more baseball news, rumors and analysis, follow @cbssportsmlb on Twitter or subscribe to the RSS feed .