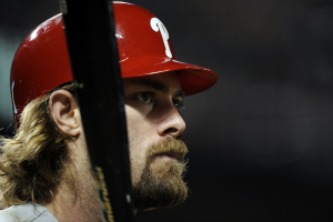 We have our first official free-agent shocker of the winter. In a move first reported by Todd Zolecki of
MLB.com
, outfielder Jayson Werth, one of the top free agents on the market, is joining the
Nationals
. Several other outlets have confirmed the news.
The Nationals have been making it clear they have money to spend, but seemed unlikely to be able to lure top players in their prime because they don't appear poised to win any time soon. Washington has finished last in the National League East six of the past seven years. Conventional wisdom is that losers have to overpay for star players, and considering agent Scott Boras'
position
that Werth was the top offensive player available, that could mean the former Phillie scored a monster deal.
Jon Heyman of SI.com reports that it's a seven-year contract, but no dollar figures have yet been reported. The Nationals have an announcement scheduled for 5 p.m. Eastern
The Nationals had said their primary goal this winter was to get an ace pitcher, but after losing
Adam Dunn
to the
White Sox
, apparently they decided to spend their Dunn money to make a big play for a replacement bat. Werth would certainly constitute a big play.
UPDATE:
Several reports have confirmed the deal as being worth (get it?
worth
?) $126 million. As Jeff Passan of Yahoo
notes,
that's the same total value as the deals for
Barry Zito
and
Vernon Wells
. So, make of that what you will.
UPDATE:
For
Red Sox
fans wanting to know how Boston let Werth slip away,
CSNPhilly.com
is reporting the Red Sox offered him three years with an option fourth, at an average of $16 million. Werth took seven years at $18 million per. Not that they should have been, but the Red Sox weren't even in the neighborhood.
UPDATE:
Paople around baseball are reacting with shock to the terms of the Werth deal, and at least one,
Mets
GM Sandy Alderson, even took a little shot at the Nationals. Speaking to reporters at the Winter Meetings, he said, "It makes some of our contracts look pretty good. That's a long time and a lot of money. I thought they were trying to reduce the deficit in Washington."
UPDATE:
If you're interested in precisely what Werth has to say about the signing, Mark Zuckerman of Nats Insider is in the process of transcribing his introductory conference call with Washington reporters. You can check it out
here.
-- David Andriesen
For more baseball news, rumors and analysis, follow @cbssportsmlb on Twitter or subscribe to the RSS feed.