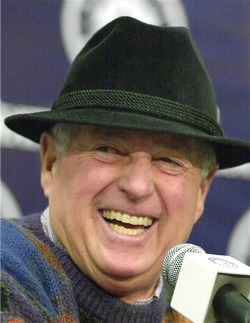 The Hall of Fame has a new member, with the Veteran's Committee electing longtime general manager Pat Gillick, while
Yankees
owner George Steinbrenner was among those that missed out.
Gillick has helmed three teams to the World Series, overseeing the 1992 and 1993 victories of the
Blue Jays
and leading the
Phillies
to the promised land in 2008 before retiring after that year and handing the reins to Ruben Amaro, Jr.
Gillick served as Jays GM from 1978-1994 after serving as assistant GM for the club since 1977. He then moved to the
Orioles
for the 1995 season, signing a three-year contract and sent the O's to the playoffs in 1996 and 1997. When his three-year pact expired, he left and the O's have not had a winning season since.
Gillick moved to the
Mariners
and oversaw the transfer of
Ichiro Suzuki
from Japan to the bigs and Seattle's sublime 116-win season in 2001, serving as GM from 2000-03, finishing his GM career with the Phillies from 2006-08 and currently serves as a special adviser to Amaro.
Gillick is the 32nd executive to be elected but just the fourth whose career was spent as a GM, joining Ed Barrow, Branch Rickey and George Weiss.
"We are thrilled to have Pat as the newest member of the Baseball Hall of Fame, and we welcome him into the Hall of Fame family," the Hall of Fame's Jane Forbes Clark said. "Pat's consistent excellence as a talent evaluator and team builder has been evident at every step throughout his brilliant career, constructing three World Series champions with his teams making 11 postseason appearances."
As the sole inductee, Gillick won't enter the Hall alongside Yankees owner George Steinbrenner, who passed away earlier this season. The player voting will be announced on January 5, and Gillick could possibly be inducted along with Roberto Alomar, whom Gillick traded for along with Joe Carter in 1990. Both players would go on to play significant roles in the World Series titles, and Gillick cited that trade as his "proudest" trade.
Below is the voting tally. Twelve votes were required for induction.
Pat Gillick (13 votes, 81.25 percent)
Marvin Miller (11 votes, 68.75 percent)
Dave Concepcion (8 votes, 50 percent)
Less than eight votes:
Ted Simmons
Vida Blue
Steve Garvey
Ron Guidry
Tommy John
Billy Martin
Al Oliver
Rusty Staub
George Steinbrenner
-- Evan Brunell
For more baseball news, rumors and analysis, follow @cbssportsmlb on Twitter or subscribe to the RSS feed.