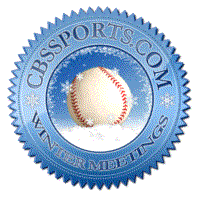 The Rule 5 draft is underway, and it will go by very fast. Stay tuned right here for the selections teams make as well as some information about said selections. Need a Rule 5 primer on what the draft is all about and what to expect this year?
Check C. Trent Rosecrans' breakdown here
.
Round 1
Pirates
-- SS Josh Rodriguez, CLE
Rodriguez could potentially start for the Pirates. He has an intriguing bat and can play short or second base.
Mariners
-- RHP Jose Flores, CLE
A second straight loss for the
Indians
, Flores had a 2.14 ERA in 42 innings for Class A, whiffing 10.9 batters per nine and walking just 1.5 per nine. A fine pickup.
Diamondbacks
: LHP Joe Paterson, SF
As will be a common thread in the draft, Paterson can strike out quite a few people. Impressed in Triple-A as a 24-year-old and has a strong chance of stickig under bullpen guru GM Kevin Towers.
Orioles
: RHP Adrian Rosario, MIL
Remember what I said about pitchers who strike out hitters well? Yep. Hard-throwing relievers are very common in the Rule 5.
Royals
: RHP Nathan Adcock, PIT
Adcock played at high-Class A as a starter and is an intriguing reach by the Royals.
Nationals
: RHP Elvin Ramirez, NYM
He throws hard, pretty much.
Cubs
: LHP Mason Tobin, LAA (
traded to
Rangers
)
Did not pitch in 2010 and really hasn't had extended playing time since 2007. A wild card if there ever was one.
Astros
: RHP Aneury Rodriguez, TB
The consensus No. 1 pick, Rodriguez is 22 and could eat innings at the back of Houston's rotation.
Brewers
: RHP Pat Egan, BAL
Egan can't strike out anyone to save his life and got knocked around in Triple-A but has sensational control.
Mets
: 2B Brad Emaus, TOR
Has a solid stick, looks similar to Rodriguez except he's more challenged defensively. Emaus could see a lot of playing time at second alongside
Luis Castillo
while Ruben Tejeda plies his craft in the farm.
Padres
: RHP George Kontos, NYY
Kontos, 25, pitched at the Triple-A level (albeit briefly) and could stick in the middle of the bullpen, but not much to see here.
Twins
: LHP Scott Diamond, ATL
Diamond flashes a good curveball and pitches from the south side of the mound.
Yankees
: LHP Robert Fish, LAA
Fish got bombed in Double-A but... stop me if you've heard this before... strikes out a lot of batters.
Rays
: LHP Cesar Cabral, BOS
A South Atlantic League All-Star, Cabral has punchout ability and four pitches, one of which is a very good changeup.
Phillies
: OF Michael Martinez, WAS
Martinez is an old fogey at age 27 but broke out in Triple-A (albeit in only 135 at-bats) for the first time, showing he may have a decent bat. He's likely an emergency fallback for the Phillies who would prefer a better right-handed outfield bat. Martinez is a switch-hitter.
Round 2

Nationals: RHP Brian Broderick, STL
This is another guy who doesn't strike out much but has strong control. Could contend for a spot in the back of Washington's rotation.
Astros: Lance Pendleton, NYY
The 26-year-old spent the bulk of his time in Double-A's rotation for the Yankees sans a brief look at Triple-A, but I can't see him sticking over Rodriguez and it's hard to imagine Houston carrying two Rule 5 picks. A trade on the way?
Mets: RHP Pedro Beato, BAL
The Mets originally drafted Beato but didn't sign him. They now get their man as Beato has emerged as an option in the bullpen after failing as a starter.
Yankees: RHP Daniel Turpen, BOS
Turpen was acquired by the
Red Sox
in the
Ramon Ramirez
-to-Giants trade but has near-zero chance of sticking with the club. He's a sidearmer.
There might be a gem or two in here, but most of these names will end right back up with their former club.
-- Evan Brunell
For more baseball news, rumors and analysis, follow @cbssportsmlb on Twitter or subscribe to the RSS feed
.