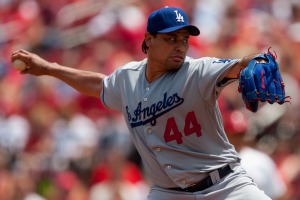 We've had some contracts this week with unexpected numbers, but this might be the first one that's surprisingly small.
The
Dodgers
announced that they have signed Vicente Padilla to a one-year deal, and the base salary is just $2 million. Considering he was the Dodgers' opening-day starter last season and went 6-5 in 16 starts with a 4.07 ERA, while making more than $5 million, that's a curiously low number. The 33-year-old did miss a lot of time with injuries, but you don't see a lot of players with decent numbers take a 60-percent pay cut.
According to
MLB.com,
however, the deal is loaded with incentives that would pay him up to $8 million more if he makes 33 starts, and up to $6 million more in unknown elief incentives, which would be tied either to appearances or games finished.
Los Angeles already has five starters --
Ted Lilly
,
Jon Garland
,
Hiroki Kuroda
,
Chad Billingsley
and
Clayton Kershaw
-- so it's unclear what they have in mind for Padilla. If he alternates between starting and relieving, that could create some awkward situations as he's unable to meet his incentive terms in either role. It's a clever deal for the Dodgers. They're protected if Padilla continues to have injury problems, and the incentives are big enough to keep him from taking a guaranteed deal for more than $2 million elsewhere, which he surely could have done.
-- David Andriesen
For more baseball news, rumors and analysis, follow @cbssportsmlb on Twitter or subscribe to the RSS feed.