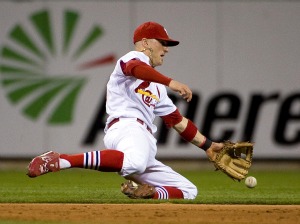 With the Mariners acquiring Brendan Ryan from the Cardinals, the infield picture for Seattle may have gotten a bit muddier.
That's the aim of GM Jack Zduriencik, however.
"What I've said to Brendan and what I've said to [manager] Eric [Wedge] is, what I'd like to do is create opportunities,'' Zduriencik told the Seattle Times . "Create competition. And at the end of the day, let the pieces fall where they may.''
Make no mistake about it, however: Ryan figures to start for Seattle -- and not at third base, where there is currently a vacancy. Ryan has only 29 games experience at third with 19 starts. Second base isn't much better at 59 and 43, but it's a significant leap and also is the position most similar to shortstop where he has 312 games of experience.
That could put Chone Figgins back at third, the speedster's natural position before shifting to second for his first season in Seattle. But Zduriencik wasn't ready to take that leap just yet.
"We have not talked to Chone yet,'' he said. "I just spoke this morning with Eric [Wedge]. So, as we move forward, we've got a lot of time before spring training, but we would like to have discussions with our players sometime...I'd say in the next week to 10 days. Just to sort of give them the lay of the land and where things stand. Give them our opinions, hear their opinions and then some decisions could be made.''
Assuming Figgins lands back at third (he was a brutal defender at second), the Mariners could have an incredible defensive configuration, but that could come at a big cost to the offense. Jack Wilson won't hit whatsoever at short while Ryan is coming off a brutal offensive season although wrist surgery to correct the issue in spring training that plagued him through the year seems to have taken hold. Figgins, meanwhile, had a terrible season in a Mariners uniform and could also be poised to bounce back.
So why Ryan if all he is is a glorified new Jack Wilson?
Because the Mariners have a future at second and short, but need someone to get them there. As Geoff Baker writes, Ryan is expected to fill in at second until prospect Dustin Ackley is ready for primetime, which is likely late 2011. After 2011, Jack Wilson's contract expires which would allow Ryan to shift to shortstop and hold the seat warm for yet another prospect in Nick Franklin.
-- Evan Brunell
For more baseball news, rumors and analysis, follow @cbssportsmlb on Twitter or subscribe to the RSS feed .