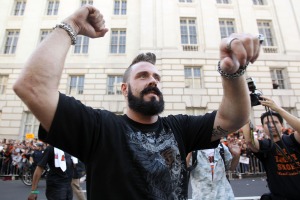 I'd have to think really hard to come up with something that sounds more awesome than going to Thailand with
Brian Wilson
.
The
Giants
closer is an interesting guy, to say the least. If you're not familiar with the man behind the beard,
check out
this video, which features Wilson proclaiming himself a "certified ninja" with a 188 IQ, and playing a prank on a TV host involving a man in bondage gear.
Dallas Braden
is a character in his own right, and the two friends recently took a trip together to Thailand. Braden told the
San Francisco Chronicle
that Wilson was an international rock star.
"Absolutely, everywhere we went," Braden said. "Brian was loving every minute of it. It was awesome.
"I don't know if the Giants know it, but he's the best ambassador for their team. He never turned anyone away, he posed for photos with everyone. They'd say, 'Are you the guy with the beard from the Giants?' and he soaked it up. He showed the love."
Braden said Wilson's trademark beard started to lose its black luster toward the end of the trip.
"I said, 'Dude, you must have forgot the Just For Men,' because you could see some red shining through."
-- David Andriesen
For more baseball news, rumors and analysis, follow @cbssportsmlb on Twitter or subscribe to the RSS feed.