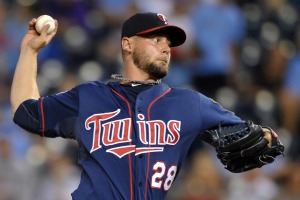 The
White Sox
have agreed to a three-year deal with Jesse Crain, as
Peter Gammons reports
.
This is the latest in a series of three-year deals given to relievers. First
Joaquin Benoit
set the market, then
Scott Downs
and Matt Guerrier followed.
Gotta say, it's a good year to be a middle reliever.
Crain recently finished up a year in which he pitched 68 innings of a 3.04 ERA. He boasts a career ERA of 3.42 along with a 4.48 xFIP, so may be hurt by the move to homer-friendly US Cellular Field.
That said, Crain is just 29 and punched out 8/21 batters per nine in 2010, walking 3.57. Throwing an average fastball that is just a hair under 95-mph, he matches up with Chicago's affinity for hard-throwing relievers.
In other relief news,
Hardball Talk
has Bobby Jenks nearing an agreement with the
Rays
. This is a fantastic agreement for both sides, as Jenks will land somewhere where he won't have any trouble sewing up a closer's gig. That'll allow him to spend 2011 trying to rehabilitate his value, while the Rays pick up an underrated pitcher who seemed to clash with skipper Ozzie Guillen in Chicago. (However, FOX Sports'
Ken Rosenthal
says Jenks isn't close to a decision and has also heard from the
Yankees
.)
The
Red Sox
continue their slew of uninspiring relief signings, blanching at the three-year demands out there. A day after inking Matt Albers, the Red Sox have brought back lefty Lenny DiNardo, as
WEEI
reveals. The deal is of the minor-league variety. DiNardo was with the Red Sox from 2004-06, then traveled to the A's where he enjoyed success on now-Red Sox pitching coach Curt Young. He struggled from 2008-10 with injuries and bounced from the A's to
Royals
and back to Oakland. Now, he'll serve as depth for Boston with an outside shot toward winning a bullpen job out of spring training.
The Jays, meanwhile, aren't asleep at the switch in finding a reliever. They're hot after Octavio Dotel, as
FOX Sports' Ken Rosenthal
reports. Dotel could potentially close in Toronto, which may appeal to the 37-year-old. The club could pit Dotel and Jason Frasor in a contest for the job. Dotel isn't the reliever he once was, but in a market where three-year deals are the norm for relievers, Dotel suddenly starts to look attractive on a one- or two-year pact.
Lastly, the Yankees are hard after a left-handed reliever. That puts them in line for Brian Fuentes, Pedro Feliciano, Arthur Rhodes, and more. Rhodes was thought to be close to a deal to re-up with the
Reds
but with the market the way it is, may listen to alternatives. Fuentes is the best lefty on the market, so the Yankees will have to pony up, but they have a ton of cash burning a hole in their pocket.
UPDATE
:
Jon Paul Morosi of FOX Sports
has Crain's deal at three years, $13 million.
Wow.
Also,
Kerry Wood
is headed back to the
Cubs
, as
Rosenthal adds
. The two sides are working on an agreement for Wood to set up
Carlos Marmol
, freeing up
Andrew Cashner
for the rotation.
-- Evan Brunell
For more baseball news, rumors and analysis, follow @cbssportsmlb on Twitter or subscribe to the RSS feed.