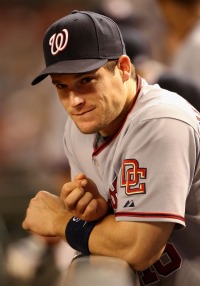 You know, it might be time to start keeping an eye on the
Athletics
.
They went 81-81 last season, and their weakness was clear: They pitched great, but they couldn't hit. But Oakland has made big moves on offense so far this winter and could be poised to make another. Ken Rosenthal of FOXSports.com
reports
that the A's are in "serious discussions" to get outfielder
Josh Willingham
from the
Nationals
.
When you consider that the three outfielders who made the most starts for the A's last season combined for seven homers -- yes,
seven
-- they're looking at a big outfield upgrade.
Coco Crisp
played in just 75 games last season due to injuries, but if he returns to form he'll be productive in the leadoff spot. The A's got
David DeJesus
, a high average guy with a little power, in November. Adding Willingham, who's good for 20-plus homers when healthy, would give Oakland a formidable outfield.
The Nationals' motivation for moving Willingham would be money. He made $4.6 million last season and is arbitration-eligible, and Washington needs to pay
Jayson Werth
. They also could have other moves in the works, reportedly pursuing trades for pitchers
Zack Greinke
and
Matt Garza
and bidding on first basemen Adam LaRoche and Derrek Lee.
Rosenthal said the Nationals would get two minor leaguers from the A's in exchange for Willingham.
UPDATE:
Buster Olney of ESPN.com says
via Twitter
the teams have a deal in principle, with the Nats getting "two young players, one of whom has major league experience."
-- David Andriesen
UPDATE : The deal is done. Washington receives fireballing reliever Henry Rodriguez, who can touch 100 mph, and minor-league outfilelder Corey Brown. Reports had GM Mike Rizzo demanding more for Willingham so this is a bit of a surprise, but the motivation may have been to get the left-fielder out of town after Rizzo refused to extend Willingham.
Rodriguez is the man with MLB experience and threw the second-fastest fastball in the bigs in 2010, touching 103.2 mph. He appeared in 29 games, hurling 27 2/3 innings of a 4.55 ERA, punching out 33 but walking 13. The 23-year-old will compete for the closer's job in Washington, which is wide open.
Brown, meanwhile, is a left-handed outfielder who appeared in Triple-A for the first time in 2010 as a 24-year-old. He hit just .193/.253/.378 in 148 plate appearances. He did, however, bash Double-A to the tune of .320/.415/.502 in 386 PA. With 22 stolen bases on the season, Brown could develop into a solid fourth outfielder for Washington.
Still, this package feels light for Willingham. Oh well, that's to Oakland's benefit who now have to figure out which starting outfielder hits the bench.
-- Evan Brunell
For more baseball news, rumors and analysis, follow @cbssportsmlb on Twitter or subscribe to the RSS feed.