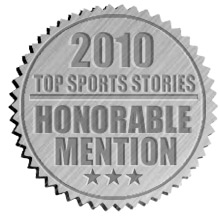 CBSSports.com will be revealing its Top 10 Stories of the 2010 season next week, but here at MLB Facts and Rumors we're going to reveal our own Top 10 list, sans the storylines that will be appearing on the overall list.
Here's the top storylines from the 2010 season that didn't make the cut:
10. Felix Hernandez wins AL Cy Young

The
Mariners
ace ran away with the Cy Young Award after posting a 2.27 ERA (3.26 xFIP), whiffing 232 in 249 2/3 innings and walking just 70 batters and posting a 13-12 record.
Wait, what?
Yup -- a starting pitcher won the Cy Young with a 13-12 record. Now, there have been past winners who had shoddy records, but in light of
Zack Greinke
's victory in 2009 with "just" a 16-8 record, it's clear that wins are being marginalized -- and that's a good thing.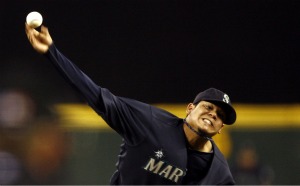 The majority of GMs and front-office executives understand the fallacy of judging a pitcher's performance on wins. After all, for a pitcher to get a win, the offense and defense play important parts -- and one could argue the offense plays a more important role. Hernandez was clearly the best pitcher in the league (although
CC Sabathia
did get short shrift) and deserves the award, but could you have seen this coming just five years ago?
Nope. We're in the middle of a seismic shift where advanced statistics are starting to take hold in mainstream media -- for the better. While the statistics used in the sabermetric community (such as xFIP, which is quoted often in this blog) will always be ahead of mainstream media, the mere fact one can find national writers quoting ERA+ is a positive.

9. End of an era for legendary managers

Four managers with impressive pedigrees saw their managerial careers come to an end (well -- for now).
In Toronto, Cito Gaston ended his return to the managerial ranks by guiding the team to a 85-77 record. Of course, Gaston will be remembered more for his original stint as a Blue Jay where he won back-to-back World Series titles.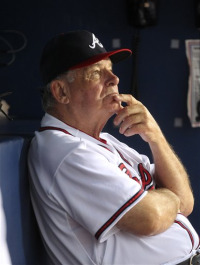 Lou Piniella was another to exit stage left, stepping down near the end of yet another disappointing season as
Cubs
skipper. Piniella takes with him a 116-win season (2001 Mariners) and World Series ring (1990
Reds
) along with 1,835 victories.
Joe Torre joins Piniella as another ex-Yankees manager who retired. After Torre bounced around from the
Mets
to
Braves
to
Cardinals
, he landed with the
Yankees
with almost 15 years experience and then turned into a star. He won four titles in five seasons and remained in New York for 12 years. He just finished up a three-year stint with the
Dodgers
that saw him win an additional two division titles and retire with 2,326 victories.
Last, but definitely not least, is Bobby Cox (pictured). Cox managed the Braves for 25 years from 1978-81 and then again from 1990-2010. In between, he managed the
Blue Jays
and served as Atlanta's general manager. Cox had just three losing seasons as Braves manager, going 40-57 in 1990, 79-83 in 2006 and 72-90 in 2008. He oversaw the vaunted trio of Greg Maddux, Tom Glavine and John Smoltz and won 100-plus games five times, capturing his World Series ring in 1995. All told, he won 2,504 games and lost 2,001.

8. Chase for Triple Crown

At one point during the season, a Triple Crown was a distinct possibility in both the AL and NL.
Josh Hamilton
and
Miguel Cabrera
had a showdown in the AL, but Hamilton's missing most of September cut short any possibility of winning the Triple Crown. Hamilton beat Cabrera in batting average, .359 to .328, but Miggy bested Hamilton with 38 homers to the Ranger's 32. (
Jose Bautista
pulled away from the field with 54 home runs, but this was a lot closer in July and August than it ended up being.) Cabrera overcame Bautista to win the RBI title with 126 ribbies, and Hamilton was 12th with 100 RBI on the nose.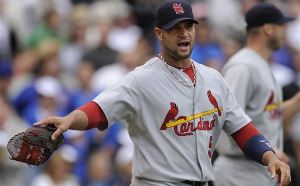 The NL was a lot more closer with the combatants as
Joey Votto
and
Albert Pujols
(pictured). Pujols ended up with 118 RBI, Votto 113 -- but the reigning NL MVP beat Pujols in batting average with a .324 mark as compared to Phat Albert's .312. (
Carlos Gonzalez
won the title with a .336 mark.) Ah, but Pujols walked away the home-run king with 42 bombs, Votto cranking 37.

7. Rookies of the Year

In the AL, two rookies grabbed everyone's attention with center fielder
Austin Jackson
flourishing in Detroit and
Neftali Feliz
notching 40 saves. A slow start derailed
Brian Matusz
's hype in Baltimore, but by the end of the year it was looking like he could be the ace many had predicted him to be.
The real story was in the NL, where there was a plethora of candidates in
Buster Posey
,
Ike Davis
,
Mike Leake
,
Stephen Strasburg
,
Jason Heyward
,
Madison Bumgarner
,
Ian Desmond
,
David Freese
, Mike Stanton,
Travis Wood
,
Pedro Alvarez
,
Aroldis Chapman
,
Starlin Castro
,
Logan Morrison
,
Gaby Sanchez
,
Jose Tabata
, Jon Niese...
Yep, there was a bona fide youth movement in the NL this year, and it should be one fun league to watch over the next few seasons. In any other given year, at least five, if not more, could have won Rookie of the Year awards. But they didn't.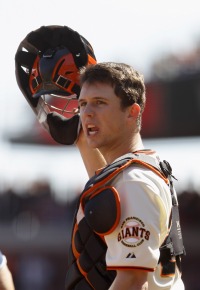 So, who actually got the Rookie of the Year Awards?
The AL honor went to Feliz for his 40 saves in 69 1/3 innings, punching out 71 and walking 18. He has the potential to be a stud closer for years... or could be moved back to the rotation. Your move, Texas.
In the NL, Buster Posey (pictured) whisked the award away from Jason Heyward with a .305/.357/.505 line in 443 plate appearances, bashing 18 home runs and leading the
Giants
to the World Series. Nah, he didn't set any expectations for himself.

6. Dodger Divorce

This storyline isn't quite over, but 2010 saw the sordid trial and subsequent decision by the judge that both Frank and Jamie McCourt own the Dodgers. Whether or not this pushes the team to sell isn't known yet, but this was a divorce that captured the hearts of tabloids and overshadowed the constant Hollywood marital troubles that plague movie celebrities.
At the crux of the issue were two separate agreements that detailed either Frank (pictured below left) possessing sole ownership of the club, or both. Frank's lawyer admitted he made changed to the marital agreement without notifying Jamie or her representatives that gave Frank sole ownership.
With the agreement nullified, Frank is pursuing other avenues to be declared the sole owner while Jamie and representatives say that the Dodgers must be treated like community property. While there's still more battles to be had, the war is over: both McCourts own the team and it's difficult to fathom both co-existing, which will lead to the team's sale.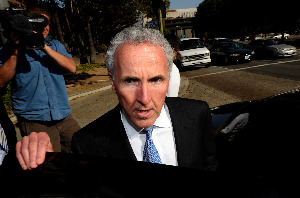 5. Year of the Pitcher

Six no-hitters were thrown in 2010, a remarkable achievement. Only two other times were six no-hitters thrown, and that's not including the Perfect Game That Wasn't in
Armando Galarraga
's perfecto.
Ubaldo Jimenez
tossed the first no-hitter in
Rockies
franchise history against the Braves on April 17 to get the no-nos started.
Matt Garza
also tossed a franchise-first no-hitter, doing so for the
Rays
vs. the
Tigers
on July 26, the final no-hitter of the regular season.
Dallas Braden
then followed that up with a perfect game against the Rays on May 9th, adding a nice little wrinkle to the earlier flap with
Alex Rodriguez
, when he yelled at the third baseman to "get off my mound."
Rodriguez responded
in Pedro Martinez form
, asking just who the heck Braden was. Cue perfect game. Now people know who Braden is.
New Phillie
Roy Halladay
(pictured) followed in Braden's footsteps 20 days later, pitching perfect against the
Marlins
May 29.
Edwin Jackson
joined in on the fun June 25th, throwing an incredible 149 pitches to notch a no-no for the
Diamondbacks
.
Lastly, Halladay did perhaps the most impressive feat of all, blanking the Reds in Game 1 of the NL Division Series on October 6. It's the second no-hitter to be thrown in the postseason, behind Don Larsen's perfecto in 1956. He was one walk in the 5th away from a second perfect game.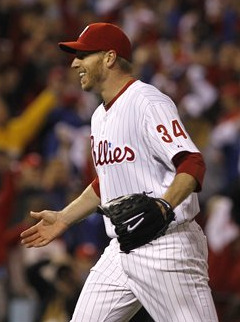 That wasn't all that made the year all about pitchers, however. Fifteen hurlers tied the all-time record for most pitchers with at least 200 strikeouts, paced by
Jered Weaver
's 233 whiffs.

4. George Steinbrenner passes

Steinbrenner was someone who loomed over baseball from Day One upon his acquisition of the Yankees in 1973. Brash and loud, Steinbrenner wouldn't accept any form of losing and while New York won two World Series in 1976-77 and appeared in two others in 1976 and 1981, New York quickly fell into obscurity as Steinbrenner's demands weren't the way a club should be run.
His overturn of management personnel was rough as well, as 20 managers served under his watch over his first 23 seasons, Billy Martin the poster boy for this overturn. Steinbrenner was also suspended for 15 months after the 1974 season for illegal campaign contributions to Richard Nixon. It wouldn't be his last suspension.
Despite this, however, the Yankees reinvigorated a brand that had been dormant for a decade. Then, the best thing that could have happened to New York did with King George's second suspension, handed out for paying a gambler for trying to dig up information on star Dave Winfield, whom Steinbrenner had made the highest-paid player in baseball history at the time before clashing with the Hall of Famer.
This allowed Gene Michael, the GM, to take over day-to-day Yankees business and upon Steinbrenner's reinstatement in 1993, he was more willing to be hands off -- as hands off as he could be, anyways.
This shift led the Yankees to their glory years behind
Derek Jeter
,
Jorge Posada
, Bernie Williams, Andy Pettitte, and so on. The Yankees captured four World Series in a five-year span, three straight from 1998-2000. They would continue to be the face of baseball throughout the beginning of the 21st century and captured another World Series in 2009, the last postseason Steinbrenner would see.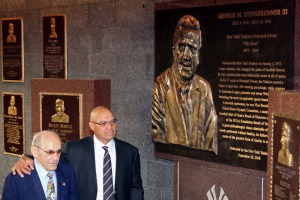 The Boss passed on the morning of the 2010 All-Star Game, July 13. With that, the Yankees lost perhaps their most influential and important owner in franchise history (although one could make a case for
Jacob Ruppert
).

3. Cliff Lee Watch

On MLB Facts and Rumors, Cliff Lee has been written more than any other player -- and team. The
Cliff Lee tag
beats out the Diamondbacks,
Pirates
,
Orioles
, Rockies,
Padres
, Blue Jays, Tigers,
Brewers
,
Royals
,
Angels
,
Athletics
,
Astros
and
Indians
. That's a lot.
That's not all, however. There's also a
Cliff Lee Watch
tag, detailing his adventures through trades and free agency. What does that top? Well, Derek Jeter for one. Only
Adam Dunn
, Stephen Strasburg and Lee himself are the only players that top that tag. Yep, that means Derek Jeter,
Carl Crawford
, Josh Hamilton... they've all been written about less than Lee's nomadic career.
Wow.
Lee is truly a journalist's dream, with the specter of free agency and constant trades keeping Lee at the forefront of the news. First Lee was dealt to the
Phillies
, and their push to the World Series provided plenty of fodder. Then you had Lee being traded to the Mariners and the head-scratching element of Philly turning around and acquiring Roy Halladay.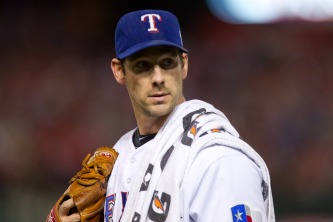 Then the Mariners flailed, and Lee was in a tug of war between the
Rangers
and Yankees. With Texas, he advanced to the World Series yet again, but hit free agency and we all know how that turned out.
Lee has been a big part of baseball coverage the last two years, and especially this year as he went from the Phillies to Mariners to Rangers and back to Philadelphia. I've never quite seen a player sustain coverage this long in so many different ways.

2. Strasmas

Cliff Lee may have dominated the off-the-field storylines, but Stephen Strasburg was a phenom on the field. He rocketed through the minors, with each of his farm starts must-see status.
Then: his debut.
Seven innings, two earned runs, no walks, 14 strikeouts -- and a whole lot of
Nationals
fans grinning ear to ear. He reached 100 mph on two pitches, and 34 of 94 pitches broke the 98-mph barrier.
It didn't stop there, as Strasmas blew through city after city, leaving shell-shocked players in its wake as Strasburg racked up 92 strikeouts in 68 innings over 12 starts. He posted a 2.91 ERA while walking just 17 and was an instant ace. Even a disabled-list stint in July for shoulder inflammation wasn't enough to curb the hype.
Until August 21.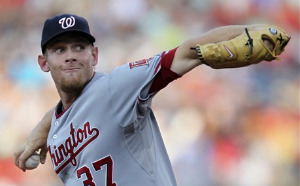 Then, Tommy John surgery showed up in Strasburg's stocking as a big lump of coal.
Strasburg was one of the most hyped pitchers of all time (
David Clyde
's got nothing on this guy) and delivered with TJ surgery providing the rock bottom. And all the while, tons of ink was devoted to Strasburg. In fact, Strasburg was the most-written about player on MLB Facts and Rumors until Lee got sent to Texas.

1. Jim Joyce blows Armando Galarraga's perfect game

What more can one say about this?
It was a brutal reminder to all that baseball simply needs instant replay. In this day and age, an "aw shucks, I messed up" isn't enough. Fans want to know that what they see on the field is legitimate. How many times do you hear about the 1985 World Series-winning Royals without the name
Jorge Orta
added?
How about the 1996 Yankees, who have to tote around
Jeffrey Maier
as part of its legacy?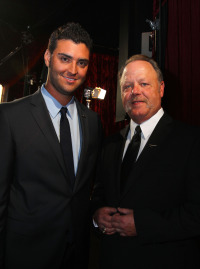 Imagine what would have happened in the 2004 ALCS had the original call of Mark Bellhorn's double had been upheld, as well as Alex Rodriguez's purse-slapping the ball out of
Bronson Arroyo
's glove?
Give Joyce credit for owning up to blowing the call and being genuinely bothered by the fact Armando Galarraga lost his shot at history on a blown call.
Give credit too, for Galarraga and the Tigers for being incredibly gracious. The actions of the two involved defused what could have been a powder-keg situation. (Just look at the picture -- talk about reconciliation.)
That doesn't change what happened, though. And what happened was this: Armando Galarraga lost a perfecto on the final out of the game in which there is irrefutable proof that the batter was out.
In the Year of the Pitcher with Lee and Strasburg as the most-talked about players and amidst the slow advent (and inevitable arrival) of expanded instant replay, it's perhaps fitting that this storyline heads the list of top storylines of the baseball season that did not make the all-inclusive Top 10 sports list, due to run on CBSSports.com next week.
-- Evan Brunell
For more baseball news, rumors and analysis, follow @cbssportsmlb on Twitter or subscribe to the RSS feed.